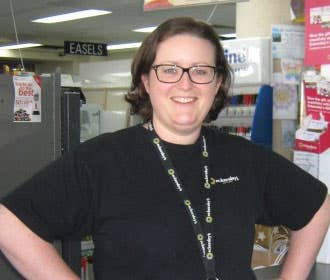 Current Role:
Customer Service Manager
Department:
Head Office
Location:
Kingsgrove, NSW
What inspired you to join Eckersley's and why?
My mum always shopped at the York st store and would by art supplies for me when I was a student. Then I heard through a friend at uni that they were opening a shop at Erina, I got the phone number of the then manager Denis and called him. I've been working here ever since.
What stores/departments within Eckersley's have you worked in? And also the roles you have worked?
I have worked at Erina and very briefly at North Sydney. I have worked as a casual, full-time, Assistant manager and Store manager.
How many years have you dedicated to the Art & Crafts industry?
13 years plus 6 years studying.
Do you have an art / craft background, if so tell us more about it?
Yes, prior to working at Eckersley's I studied an Advanced Diploma of Fine Art at Meadowbank TAFE and then a Bachelor of Fine Art Honours at The University of Newcastle. During this time and my time at Eckersley's I have been involved in many different exhibitions with my own painting and printmaking.
What trends and changes have you witnessed over the years in the Art & Craft industry?
The main things I have notice change over my time working for Eckersley's are attitudes towards different types of media. Watercolour was not as "cool" as it is now.
If you could describe the characteristics that Eckersley's as a brand portrays, what would you say?
When I first began working at Eckersley's the marketing manager at the time described how she envisioned Eckersley's as a brand and I think it was a pretty spot on description. She described it as "…the David Jones of art supplies…" That being said I think this has slightly evolved over time and now may fit more in between the "David Jones" and the "Target" of art supplies, as we are much more user friendly and our appeal has reached a much broader customer base of many different socio-economic groups.
What has been your fondest memory of working with Eckersley's so far?
The people I have met! Be it customers, staff members or suppliers I have made some wonderful friends through working at Eckersley's.
What is the funniest memory you have of working at Eckersley's?
Singing and dancing at a Karaoke bar at the manager's conference a couple of years ago.
Favourite quote and why?
"Have nothing in your house that you do not know to be useful, or believe to be beautiful." William Morris
Where do you see Eckersley's in 5 years' time?
Hopefully evolved into an even more wonderful place for customers to shop and explore creative ideas!
Do you have own personal art & craft portfolio, Instagram, Facebook, website? Please tell us!
https://www.facebook.com/aliciaphotopoulosart
https://instagram.com/the_theory_of_two