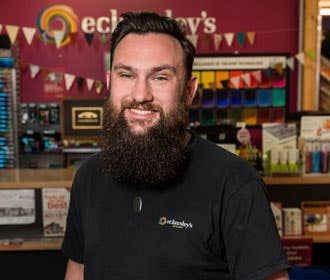 Current Role:
Store Manager
Department:
Retail
Location:
Braddon, ACT
What inspired you to join Eckersley's and why?
We were bought out by Eckersley's so I didn't have much choice there. But that was the best thing to happen! I had wanted to work in an Art store when I moved to Australia as I had many jobs back home but Art and art materials has always been a big passion of mine.
What stores/departments within Eckersley's have you worked in? And also the roles you have worked?
I have worked in all the ACT stores past and present. Braddon – the best, Phillip, Belconnen, Civic, Woden and Tuggeranong. I now oversee the stores in the ACT which I enjoy immensely. From full time to manager to area manager. Who knows, what's next maybe bellhop?
How many years have you dedicated to the Art & Crafts industry?
I can't remember a time where I wasn't drawing or making something so I will say from the dawn of time. You can see some of my cave murals in France apparently.
Do you have an art / craft background, if so tell us more about it?
Aside from being a hot sauce enthusiast I have a history in Illustration and animation with a smattering of sculpture. My current personal work is very fine detail imaginary portraits in pencil.
What trends and changes have you witnessed over the years in the Art & Craft industry?
I think the biggest change over the past 8 years is how much more inclusive the arts and crafts industry has become. It is no longer an exclusive club. Although it does help if you know the password "Please". That always gets you through the door.
If you could describe the characteristics that Eckersley's as a brand portrays, what would you say?
My favourite is the camaraderie. I love that the stores across Australia have so much interaction and it certainly makes you feel like you are part of a really special group of people. They really are a special group of people and I can now visit any state we are in and catch up with someone fun and borrow loads of money off them for things like lollipops and window cleaner.
What has been your fondest memory of working with Eckersley's so far?
Any time any of my staff have gone on to other states and have continued with Eckersley's and furthered themselves.
What is the funniest memory you have of working at Eckersley's?
It is not a single event but every day working with my amazing 2ic Mary amuses me greatly.
Favourite quote and why?
"I have a weird question" is by far the most regular thing I hear and it's never that weird. Aside from that time it was weird, that was weird.
Where do you see Eckersley's in 5 years' time?
I see it being in 2020 and staff serving while floating on weird electric plates and my old self struggling to understand the technology probably mumbling about how I remember when milk came from cows while banging my floating electric plate against the walls.
---