Country Kookaburra Watercolour Workshop with Sue Battis
Saturday 27th August 2022 10.30am – 12.30pm
About this event
In this watercolour painting 'country kookaburra' workshop you will learn how to put in a subtle background, how to lift the paint to create the colour variance in the wings, as well as effective ways to capture eyes, and texture of the wooden post.
Sue Battis will guide you through the process to work with watercolours, with step-by-step instructions to paint your own country kookaburra, using a reference photo, with permission of the photographer Jo Willo. You will also learn how to best use the materials provided, while sharing a few relaxing hours with other creative people.
At the end of the class, you will take away your own painting masterpiece.
Small class size with a maximum of 10 spaces, allow for more attention to participants from the teacher in a COVID Safe environment. All art materials used in the workshop will be provided. This workshop is suited for beginners to medium skill levels.
When you book a workshop, you will also get an additional 10% off art supplies from Eckersley's Gold Coast on the day of the workshop.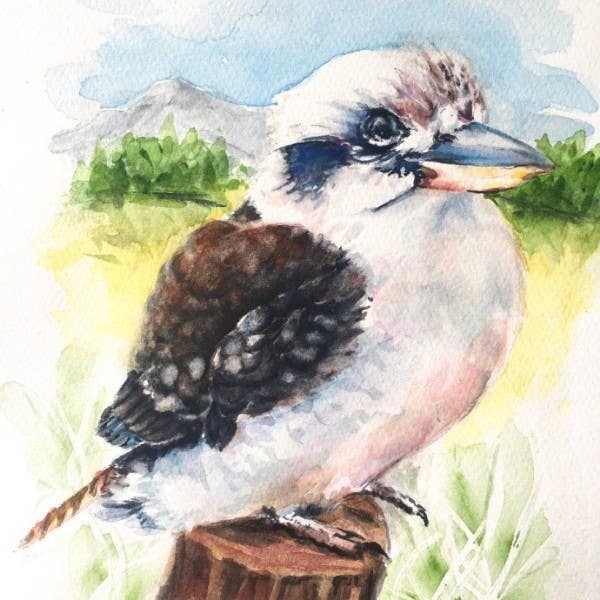 Meet the artist:
Sue Battis studied art at QCA and learned watercolour painting and design and graduated after 3 years of study. Sue resumed her love of painting several years ago, after attending classes and getting to know other artists in Brisbane. She finds it relaxing and meditative. Sue began teaching drawing and painting at Scattered Arts Gallery, located at Camp Hill. She also has her work available for purchase through Manly Harbour Gallery and Art House at Bowen Hills and was invited to join in the opening of Kaye West Studios also at Camp Hill in August last year.
Over the last few years, she has created a range of archival reproductions of her artwork which you can discover on her Esty Store, Sue Battis Art
What to bring:
Water bottle
Book now
Spaces are limited & booking is essential.
Price: $49 (includes art materials used during the workshop)
To book or find out more call Eckersley's Gold Coast 07 5528 8388 or email goldcoast@eckersleys.com.au
We look forward to seeing you at the workshop & in-store!