Sketching Architecture Essentials with Urban Sketcher Liz Steel and Faber-Castell #Colour4Life
Eckersley's Newcastle: Saturday August 27th 2022 10am – 11:30am & 12:30pm – 2pm
About this event
Architecture plays an important role in many urban scenes and so if you want to be an urban sketcher it's good to have a strategy for drawing buildings.
In this workshop Liz will share some fun essential techniques for sketching buildings – no matter how complex they appear.
This will involve:
drawing straight lines (they don't need to be perfect!)
looking for the base volumes (boxes) of a building so it becomes easier to draw
determining the important edges of a building so our lines go in the right direction
setting out the underlying structure (gridlines) early on so that we can fit all the windows and doors in
thinking about light and shadow before adding colour so that our sketches look three-dimensional.
We'll be using a combination of Faber-Castell pencils and markers to add lively colour to our drawings. These are very convenient sketching tools for using out on location.
This workshop will be suitable for beginners!
Together we'll have lots of fun learning to see buildings in a new way, in a way that will make them easier to draw. By the end you'll be rearing to get out urban sketching.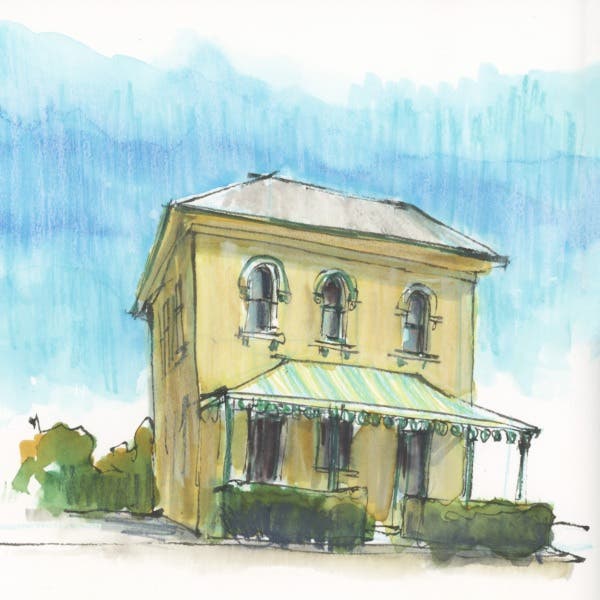 Small class size, allow for more attention to participants from the teacher in a COVID Safe environment.
All art materials used in the workshop will be provided. This workshop is suited for beginners to medium skill levels.
When you book a workshop, you will also get an additional 10% off art supplies from Eckersley's in-store on the day of the workshop.
Meet the artist:
Liz Steel worked for 18 years an architect in Sydney and is now a full-time urban sketcher, teacher and blogger focusing on quick sketching with ink, pencil and watercolour. She captures moments from her daily life and travels in her sketchbooks and publishes regular updates at lizsteel.com.
Liz teaches on-location urban sketching workshops throughout the world and has her own online school – SketchingNow.com – where she offers in-depth courses to participants from over 40 countries. She is an active member of the global Urban Sketchers (USK) community, founder of USK Australia and a regular instructor at the Urban Sketchers International Symposiums.
Liz is the author of "Five Minute Sketching: Architecture" where she combines her architectural background with core drawing concepts creating a fun yet accurate approach to location sketching.
Liz will sketch anything anywhere any time but especially loves doing lively and colourful sketches of complex buildings – the more complicated the better!
Blog https://www.lizsteel.com/
Instagram https://www.instagram.com/lizsteelart/
YouTube https://www.youtube.com/lizsteelart
Online Courses https://sketchingnow.com/
What to bring: Water bottle
Price: FREE
Book now! Spaces are limited & booking is essential.
We look forward to seeing you at the workshop & in-store!