Tis the season to get creative!
At Eckersley's, we love the Christmas season – time spent with friends and family, or relaxing after a busy year, and we love it even more when people are brought together with fun craft activities adults and kids alike will enjoy.
With the help of our friends at Jasart, we've put together a handful of fun craft ideas for you to enjoy this holiday season. Using Jasart's wonderful range of paints, mediums, and more, you can create gorgeous place cards for family lunches, personalized gift wrapping to give friends and family, fun baubles to hang on your tree, and beautiful napkins to gift or use at Christmas dinner
Get playful and creative with the kids or your friends this holiday season with some Christmas crafting! We've got you covered with all your crafting needs – just add Christmas cheer!
Christmas Baubles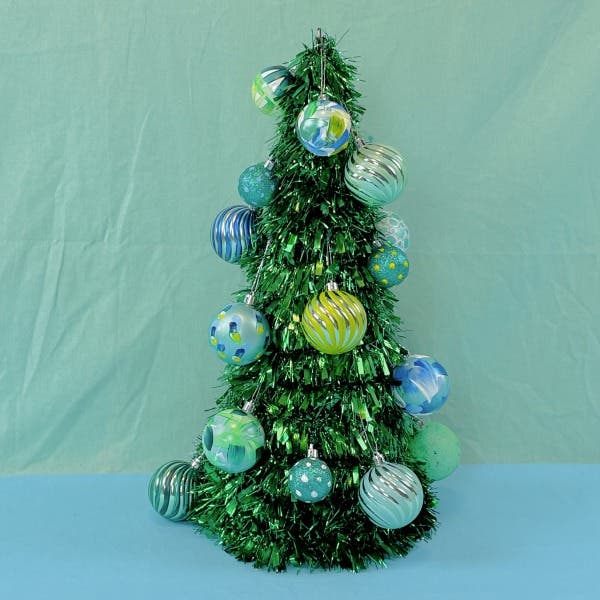 Liven up some of your worse-for-wear baubles with a lick of paint this Christmas! With just some paint, brushes, and a palette, you're on your way to making some colourful and personal baubles to hang on your tree or gift loved ones – plus they're fun to make!
Experiment with dots, lines, and working with the textures of your old baubles to create fun designs. If you want to go even further, you could alter the body of your Jasart Byron Acrylics with some of Jasart's mediums to build fun new textures on your baubles using paint!
Check out the how-to video here.
Christmas Napkins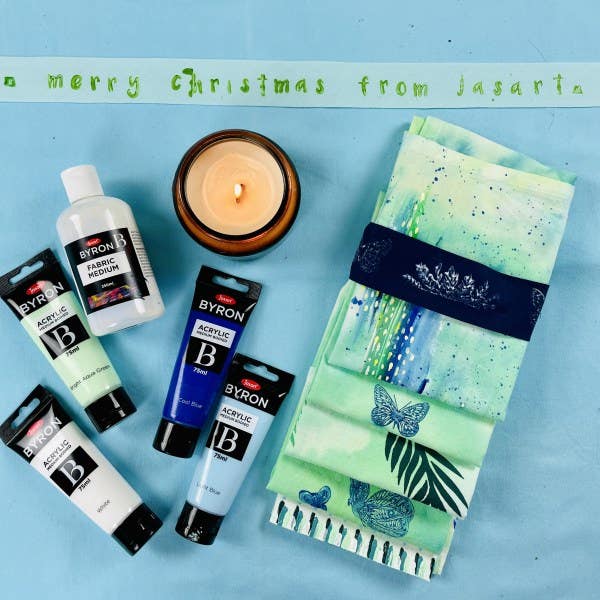 Whether you're looking for a personal gift to give or just wanting to brighten up the dining table this Christmas, this Napkin decorating craft is a great activity for you! With Jasart Byron Fabric Medium, you can turn your acrylic paints into fabric paints and combine them with stencils and stamps to create fun and personal napkins for your guests. Get even more creative and paint some designs on your napkins freehand!
This crafting activity can be done on any kind of fabric napkins, whether they are old ones you want to liven up, colourful ones you want to add patterns to, or plain white napkins that will provide a blank canvas for your creativity! Go a step further and tie-dye your white napkins before decorating them for even more Christmas crafting fun.
You can find the full how-to video here – get ready to craft! This video also features the Ribbons & Gift wrap craft activity below!
Christmas Ribbons and Fabric Gift Wrap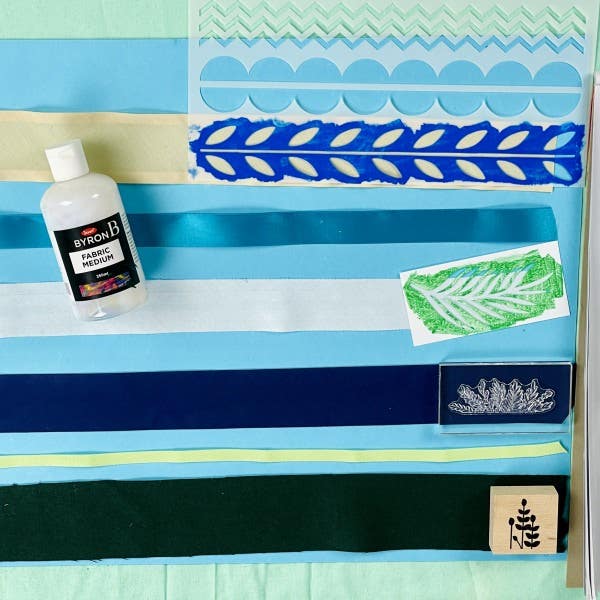 Love the napkin idea but have a more casual affair planned for your Christmas celebrations? Why not try decorating ribbons and fabric to use as gift wrap instead!
Using a similar method, you can stamp, paint, and stencil your way to one-of-a-kind wrapping solutions for Christmas! It's the perfect craft for the environmentally conscious too, as this is wrapping you can use year after year.
Check out this video for how to do it!
Place Cards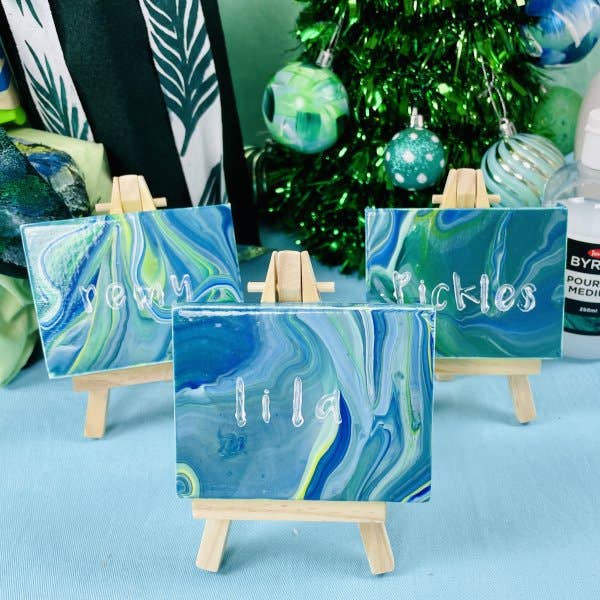 If you've been curious about pouring art, this place card art activity is the perfect place to start! Using Jasart Byron Pouring Medium & Jasart Byron Acrylic Paints, you can get messy with the kids or your friends while making some bright and playful place cards for your Christmas lunch or dinner.
Jasart Byron Pouring Medium lets you turn any acrylic paints into pouring paints, letting you create pour art from your existing art supply stash! Use your favourite colour palette for this place card art activity, and personalise them with names, pictures and more for all your guests.
Have a look at the full how-to video here and get your art on with this Place Card making activity!
Whatever your holiday plans are this year, get some creative fun in with Jasart and Eckersley's! These Christmas crafts make excellent school holiday or rainy-day activities for the kids or give you an excellent excuse to have friends around for a crafting evening. Fun for young and old, and with colourful, gorgeous results, these Christmas crafts will put a smile on everyone's faces.
We would love to see your projects come to life, too! Share photos of your Christmas ribbons, napkins, tree ornaments, or any other Christmas crafting you're doing on Instagram and tag us @eckersleys or use #CreateWithEckersleys.