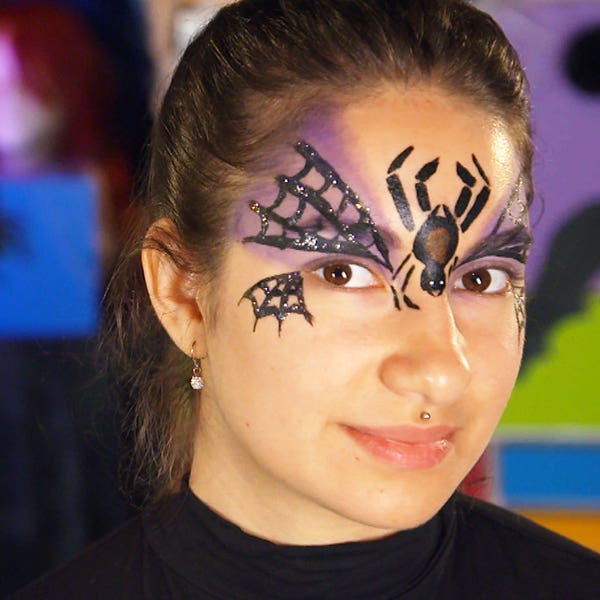 Spook up your look! In this project Get Arty artist, Rhyah, shows us how to create Spider eyes.
Click here for a PDF of this project.
What you will need
---
Purple eye shadow
Eye shadow brush
Snazaroo Face Paint (black)
Snazaroo Body Glitter
Snazaroo Face & Body Brush
Jasart Paint brush
Highlight powder
Water
---
How to do it
With the eyeshadow brush get some purple eyeshadow on the brush and place all over the eye lid and up to the eyebrow.
With the same brush take a different colour purple and place it on the face in a triangle position around the eye towards the hairline.
Tip: You can use different shades of purple to get dimension.
With the powder brush place highlight all over the purple area.
Time for the spider web. Taking a paint brush dip it in some water then the black face paint, making sure you have a good amount on the brush. Starting in the inner corner of the eye make 4 lines going towards the hairline all from that starting point.
With the black face paint, connect the lines together creating the web. Use semi-circle motions in lines opposite to the other one.
Time to draw the Spider, using your paintbrush draw the body of the spider first which is a circle, almost the size of a grape, and then you want to draw a slightly smaller circle for its top half. Draw on the spider legs, four on each side.
Finish it off with a bit of body glitter to have a sparkling effect.