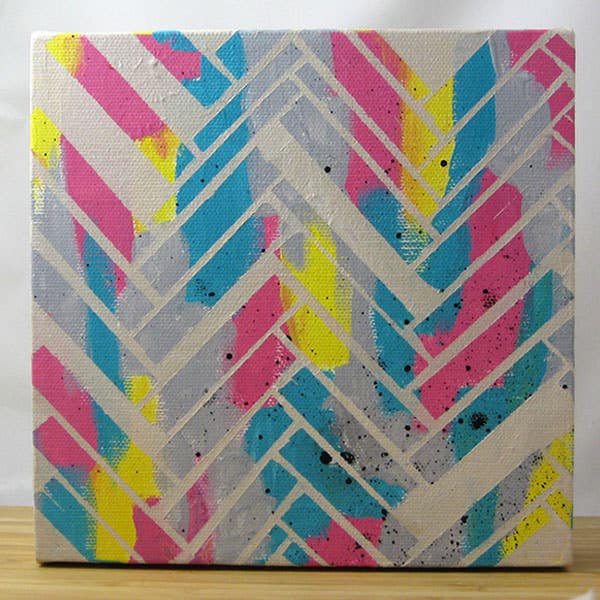 X-Press It Masking Tape is ideal for masking painted areas, and creating patterned masks on painted projects. This project can be adapted to suits a wide range of surfaces.
Click here for a PDF of this project.
What you will need
---
X-Press It Masking Tape
Jasart Canvas Panels
Reeves Acrylic Paint (Paynes Grey, Turquoise, Lemon Yellow & Black)
---
How to do it
Start to build background - Take a Jasart Canvas and start to randomly apply paints in camouflage pattern, both to the front and sides of the Canvas.
Finish background - Take two additional colours to the background pattern, and finish with flecks of black paint, more concentrated in one area of the canvas to provide different texture to the finished look. Make sure the paint is completely dry before heading to the next step.
Apply Masking Tape - X-Press It Masking Tape comes in convenient 6mm size, the small width is perfect for artist and crafters, in this case we have used Masking Tape in both 6mm and then doubled up to make 12mm strips. Apply the tape in a faux herringbone pattern, consciously missing sections to bring irregularity to the pattern.
Cover exposed areas - Make sure the Masking Tape has been pressed well to the canvas. Paint the exposed areas of the canvas with neutral toned paint.
Reveal your design - Gently peel back the strips of Masking Tape to expose the background in the pattern shaped by using the Tape.