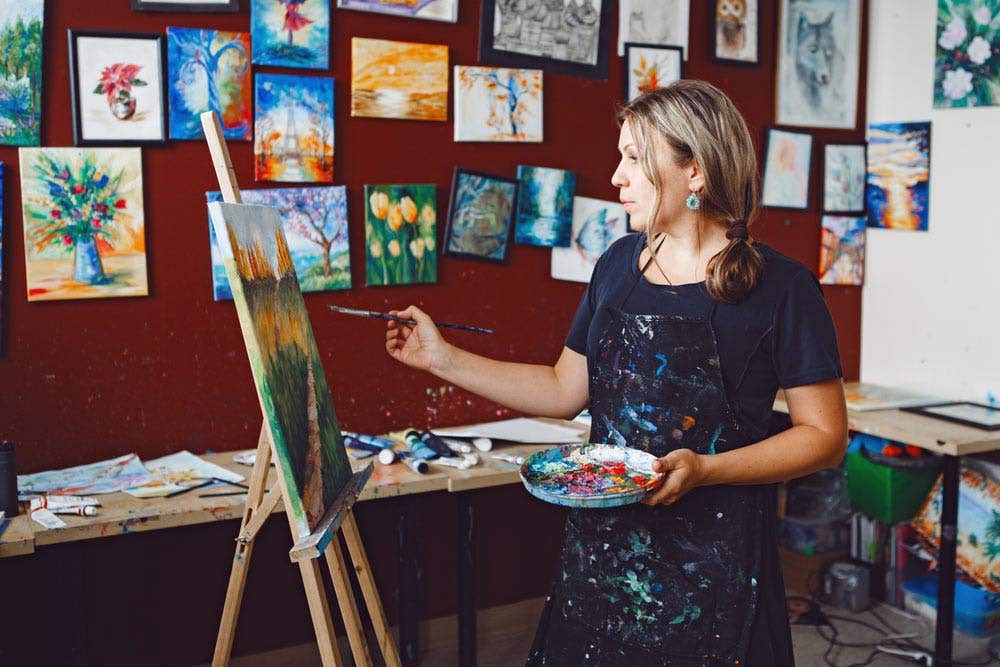 An easel is a fundamental part of an artist's setup and they come in a variety of styles and materials. It pays to do some research and shop the different styles to find the one that is right for your needs.
An easel is a piece of equipment that artists use to fix and display their work. Generally speaking, it's a three-legged design that tilts to a 20 degree vertical angle, allowing the artist to work hands free. There are several common models for an easel.
A-frame
If you don't have a great deal of room in your studio, kitchen, sunroom or whichever room you like to paint, an A-frame easel is a good choice. Also known as a lyre easel, the triangular shaped easel with three legs is great for small and medium-sized works. It also folds flat, so it's easy to store and stack. The Mabef M20 Lyre Display Easel is suitable for both studio work and display and can hold canvases up to 130cm.
H-frame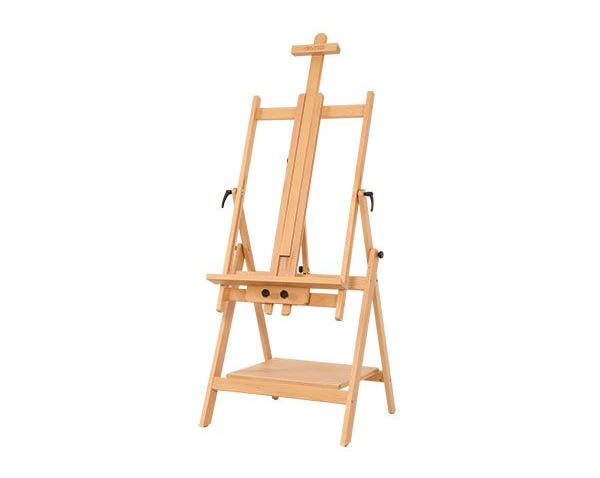 H frames are targeted at artists who have a little more room to work with and those who require the extra stability that comes with a stronger bodied frame. They're also ideal for those working on large-scale canvas projects, handling canvases up to 96 inches. They get their name because they are shaped like an 'H'. The Winsor & Newton Hamilton Studio Easel FSC100 is made from seasoned Beechwood and features a collapsible base that folds flat for easy storage. It is designed to tilt from an upright easel to a table perfect for working horizontally.
Single mast frame
Single mast frames use a tripod design with a single piece of material that runs from the base to the top. Simple and cost effective, they're popular for kids, however some models can lack stability.
Giant frames
If you're planning to paint pieces that are eight foot or more, you will need to get yourself a giant frame. If you have difficulty finding one, a H-frame would be your next best bet. Giant easels are extra strong, extra sturdy and can be bulky and heavy - not so great for transporting. That being said, the Mabef M32 Giant Field Easel, which holds work up to 200cm, is designed for outdoor drawing, sketching and painting and comes with a leather carry handle for easier transporting. Made of the very best beechwood, it's durable, long-lasting and 100% recyclable.
Tabletop frame
Like the name suggests, a tabletop frame is ideally placed on top of a desk or table and is suitable for small-scale projects. Since they don't take up a lot of room, they can be easily transported and stored away. Some tabletop designs also feature storage boxes, such as the Jasart Bamboo Box Easel.
Hybrid easels
If you plan on painting a lot of both small and large pieces, a hybrid easel is worth the investment. Use as a tabletop easel when required and then simply convert it back to a normal size A-frame. Essentially, you get the best of both worlds.
Convertible easels
Like hybrid easels, convertible easels give you multiple options. Tilt from a vertical position to a horizontal position for fluid watercolour and acrylic painting. Being able to tilt at various angles is also great for artists drawing with dry media like pastels. The Mabef M08 Convertible Studio Easel is easily adjustable and can fit canvases up to 182cm.
Portable easels
If you're an artist that's on the move or you like to paint outside, a portable easel is lightweight and easy to carry. Portable easels are designed to be taken outside, with the best models being made of wood or aluminium and easy to carry. The Jasart Field Sketch Easel features non-slip rubber grips and is FSC certified.
Display easels
Used to showcase your talent and masterpieces in galleries or your studio, display easels are generally flimsier than painting easels, as they don't need to support the weight of you working on the surface. Some display easels include unusual or whimsical designs for more aesthetically-pleasing presentations. Display easels can also come in the form of a book, such as the Florence Folio Display Easel.
Bench easels
Bench easels are ideal for plein air painters or artists giving demonstrations. They collapse into a portable position so you can take them with you on-site without needing to take an extra chair. Some models have wheels for even easier transporting.
Drawing board easels
Drawing board easels are great for sketching, drawing and watercolour painting. Made from smooth beechwood, the Jasart Drawing Board Easel features a built-in pencil rest, and its angle adjuster offers flexibility for different drawing methods and different scaled projects.
Childrens' easel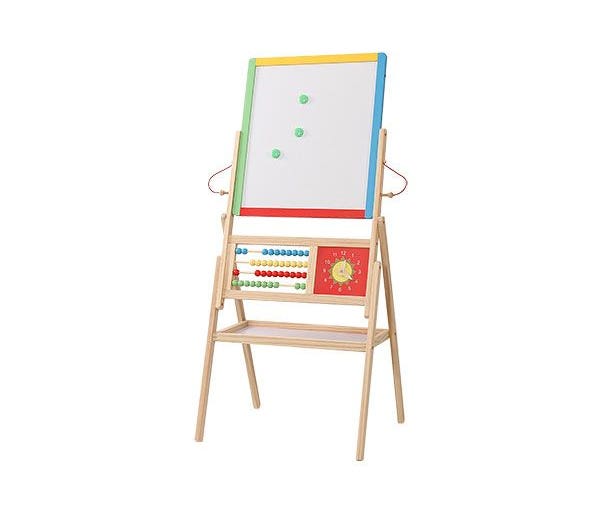 Childrens' easels can be adjustable to grow with your children. Some childrens' easels can also come with extras like our Art Advantage Childrens' Creative Easel. A double-sided easel, one side is a blackboard and the other is a whiteboard. The colourful design is lightweight, easy to move around, has a double leg support and features a clock and counters for interactive play.
Choosing the right easel
A skilled artist needs the right tools in order to be happy with their final piece. Skills and tools in any trade or hobby go hand in hand.
Every artist has their own needs when it comes to sketching, drawing and painting. When choosing an easel, look at what comes as a priority - do you want an easel that has a full inclining mechanism that is made out of wood and with attachable paint holders, or would you prefer an aluminium based easel with a fixed design?

If you're not sure which easel is right for you, talk to the team at Eckersley's Art and Craft. Our people have the skills, knowledge and advice to assist you with your current and future projects, so visit us in store today or chat with us online.