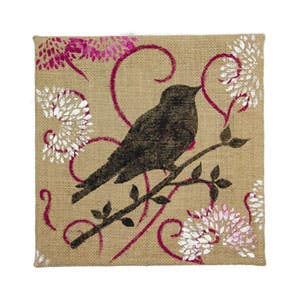 Follow the easy step-by-step instructions below to create your very own Radiant Orchid Inspired Craft Canvas. Use this project as inspiration and experiment with colours, stencils and freehand background shapes.
What you will need
---
Canvas Couture 12" x 12" Deep Edge
Reeves Black 75ml Acrylic Paint
Reeves White 75ml Acrylic Paint
Reeves Rose Red 75ml Acrylic Paint
Jasart Stencil Hog Brush
X-Acto Cutting Knife
Jasart Cutting Mat
Printed Templates (Bird & Flower)
---
How to do it
Cover your area before starting to protect from any paint spills.
Choose any printable template. Print to fit within 12"x12" canvas.
Carefully cut out the inner section so you create your own stencil template.
Using the black paint selected, stencil the bird image onto the canvas. Remembering to work from the outside of the template inwards.
Hint: Tape the template in place to avoid any movement.
Use the accent 'Rose Red' paint to freehand swirls into the background.
White paint within the flower stencil will further enhance the artwork.