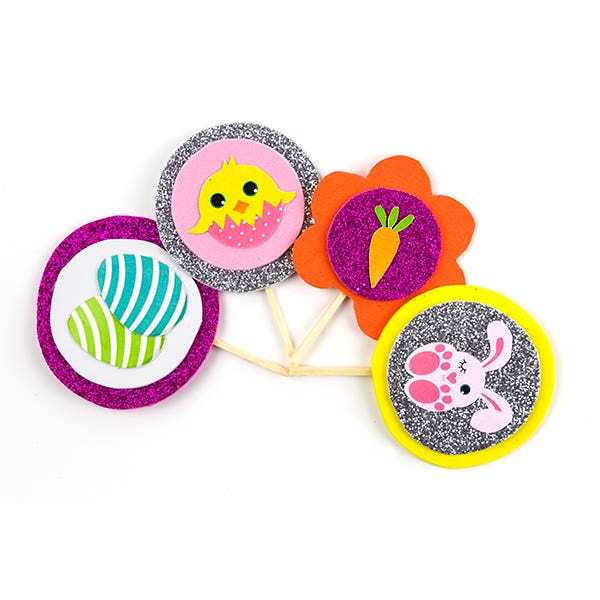 Level: Easy
Super easy to make. These cupcake toppers are a great craft to do with your children, enhancing their fine motor skills and encourages creativity.
Click here for PDF version of this project.
What you will need
---
Educraft Foam Sheets
Educraft Glitter Foam Sheets
Easter themed cut outs, decorative papers or stickers
Educraft Matchsticks
Elmer's Tacky Glue
Glue Gun*
*Children should use glue gun and scissors under adult supervision.
---
How to do it
Choose two contrasting colours from the Educraft Foam and Glitter Foam packs. These will form the base and centre colour of your cupcake toppers. Cut out a variety of shapes such as circle, flowers with a diameter of 4cm and smaller circles with a diameter of 3cm from the coloured foam you have selected.
Once all the shapes have been cut out, place them on a flat surface and start layering your designs. Start with the larger shapes as the base and the smaller circles on top. Use a glue gun or Elmer's Tacky glue to secure.
From either decorative papers or Easter paper, cut out the shapes you want to decorate the toppers. This could be bunnies, chicks, Easter eggs or flowers. (You could even use Easter stickers). Secure the decorations to the coloured shapes using a glue gun or Elmer's Tacky Glue.
Finally take a matchstick, wipe it with a damp cloth and glue to the back of the topper. Once dry they can then be placed into your cupcake.