Dragons are a popular fictional character among kids (and sometimes even adults!) The majority of dragon movies, cartoon series, and even fairy tales feature these fire-breathing monsters. They can be aggressive and kind, as shown in many dragon films and appear in Dragon Ball Z and even the Chinese Calendar. If you've ever wanted to get some inspiration on what types of dragons to draw you've come to the right place. We've made it easy by gathering some awesome ideas for you to sketch so you can become an expert in no time. From cartoon dragons to angry, fire-breathing dragons we've got all your dragon drawing ideas covered. So, grab your pencils and let's get drawing!
Tools You Need to Start Drawing
There are no restrictions on art, drawing, or any other creative work. You may draw whatever you feel like and even utilize whatever materials you choose. This freedom might be scary for inexperienced artists, but it also adds a fun aspect to the process when you consider things to draw. Below are some basic tools that should be in everyone's toolkit, regardless of their skill level. All our fantastic drawing ideas are simple to copy; here are some tools you may need for your dragon creations:
Now let's get into the dragons and drawing ideas!
Dragon Drawing Idea: Chinese Dragon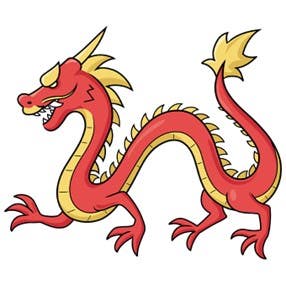 Dragons were not always evil in Asian mythology. They were deities that helped people rather than creatures who battled against humanity. In fact, they were known to assist individuals, especially in times of need. They were sometimes even associated with gods. When drawing a Chinese dragon, ensure you include a long body, sharp claws, thick eyebrows, scales and whiskers. The gold and red colour scheme is also important here and traditional to the Chinese theme.
Dragon Drawing Idea: Cartoon Dragon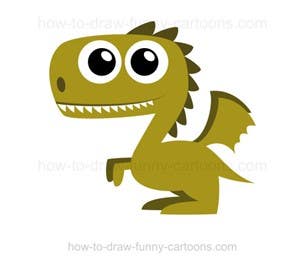 Cartoon dragons are a cute drawing idea and perfect for kids to learn to draw. If your little dragon is creative they will love this! Be sure to draw big eyes on your cartoon dragon, a big head, teeth coming out of their mouth, small arms and wings. These dragons don't tend to be dangerous, rather more charming, and you can easily create this illusion, but adding semi-circles for the spikes. Cartoon dragons are best coloured in green, but you can be creative with whatever colours you like.
Dragon Drawing Idea: Fire-Breathing Dragon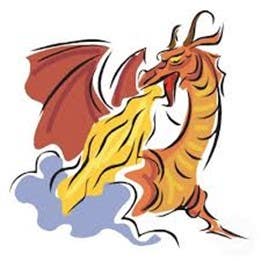 Fire breathing dragons often appear more fascinating and mystical, especially to youngsters. That's why they're so interested in learning about this dragon and sketching it themselves. Children, and adults can also attempt to draw this dragon by following and observing the picture above. You can be creative with the fire and draw long flames from the dragon's mouth, with smoke underneath to better showcase the heat and even damage this type of dragon can do. Be bright with the choice of colours for your fire-breathing dragon, by using lots of yellows, oranges and reds!
Dragon Drawing Idea: Water Dragon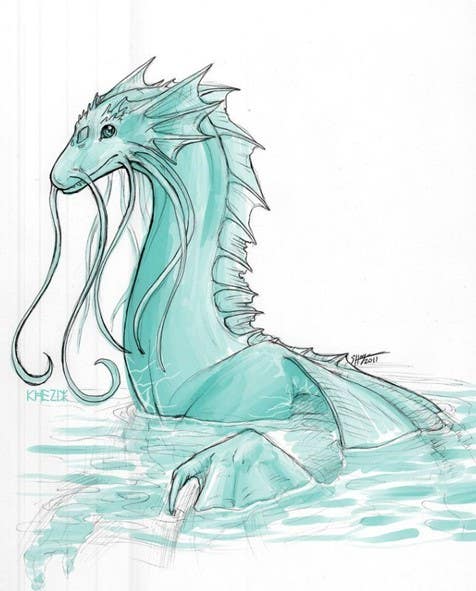 If you've ever seen a water dragon in any film or narrative, you'll surely recognize its resemblance to a sea horse. You can modify this sketch to your liking, by adding some bubbles to add more of a marine vibe. Water dragons are often coloured blue, however, a great idea here would be to use watercolours to enhance the water theme even further. You can draw a water dragon in the water or on land as the real life versions of these creatures are semi-aquatic. You can also be creative with your water dragon, by drawing a mythical version such as the one pictured or real water dragons.
Dragon Drawing Idea: Night Fury From How To Train Your Dragon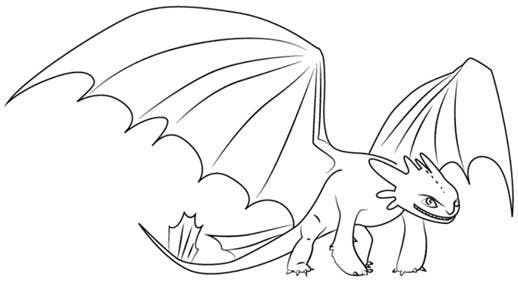 Draw the night fury dragon from scratch or by following or tracing this image. If you also want to colour your night fury dragon, you will need some dark coloured markers such as Copic markers, to bring him to life. The night fury dragon is one of the fastest, smartest, and rarest of the known species of dragons, from the How To Train Your Dragon animation. It is medium-sized and has a sleek, dark body with black scales. Remember, this dragon is all about the night and darkness, so be sure your colours match when you go to colour it in.
Techniques for Your Dragon
A clever technique is to use dot work for your dragon - that's right, you can create a dragon purely out of dots! If you take a closer look at this drawing of a dragon below, you'll see that it has been created using dotwork only. This of course is more time consuming and may require a bit more practice, but the result is truly fantastic, and definitely worth having a go! You can start by stenciling an image of your dragon in pencil and tracing it in dots, then rubbing out the original pencil lines.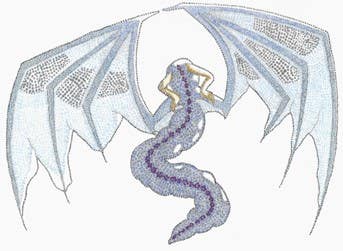 Another awesome technique is utilising colour. Mixing, shading and combining different colours is a great way to help you bring your sketch to life. This of course, can be achieved when you have a great set of pencils on hand with you. Other great tools include watercolours, markers, such as Copic markers, even pastels and crayons can help you create breathtaking images. Be bold with your choices!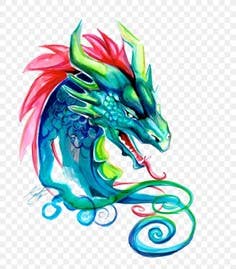 The purpose of these dragon drawings is to provide you with ideas and inspiration to expertly draw a dragon. These dragon drawings will surely be a hit with the little kids at home and will help improve their drawing skills, but of course, are just as exciting for the adults to have a go too! These are just some drawing ideas to help inspire you and your creative juices and are perfect for beginners, or those needing some inspiration.
Looking for More Drawing Ideas?
Check out our step-by-step articles for kids (and adults):