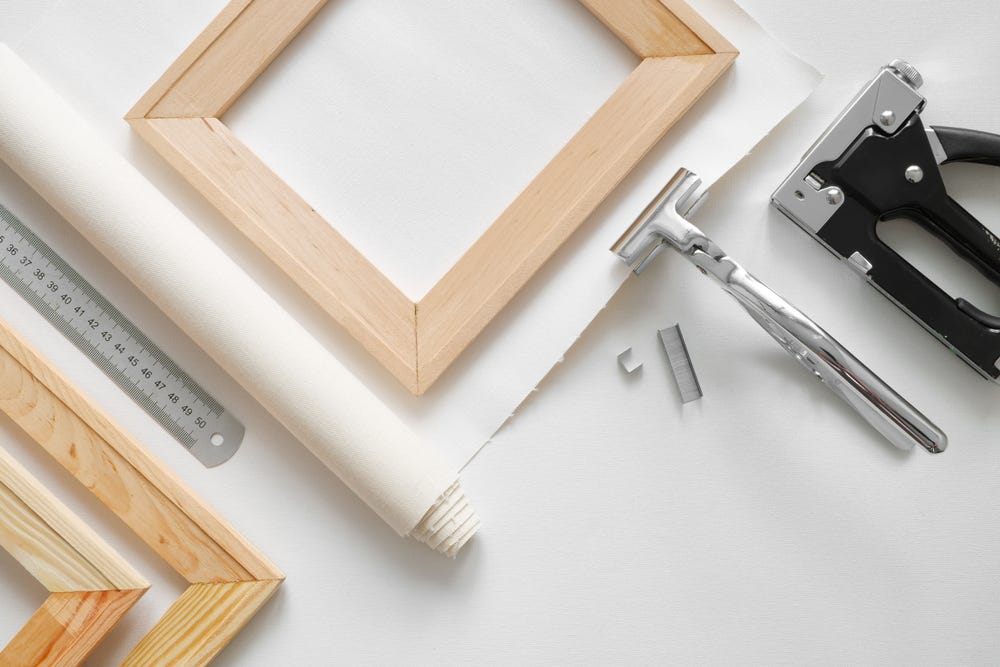 Canvas is an extremely durable, plain-woven fabric that can be used for a range of purposes. Usually made from cotton, linen or hemp, it's popular as a painting surface when stretched across a wooden frame (called a 'stretcher') and coated with gesso to prevent the paint from coming into direct contact with the canvas fibres (which would eventually cause the canvas to decay).
Canvas has been used for art since the early 14th Century, and one of the earliest surviving oils on canvas is a French Madonna with Angels from around 1410. It came into common usage in the 16th century during the Italian Renaissance with Venetian painters eager to make use of cheap, readily available supplies that took little time to dry.
Other advantages that made canvas popular are:
Canvas allows for larger formats with easy portability as they are lightweight and can be rolled
Canvas is less prone to warping and cracking than wood panels.
By the 17th century, canvas had spread throughout Northern Europe and the trend continues today. Photographers are now in on the act too, beautifully displaying their photos on easy-to-hang canvas.
How is canvas made?
Today most industrial canvases are made using cotton, which is not only economical but easy to stretch and less prone to cracking and damage. The cotton is woven using a plain weave to increase its strength. How tightly the canvas is woven is up to the manufacturer and artist.
Once woven, canvas is then wrapped around wooden stretchers and prepared for paint using gesso, a mixture of plaster of Paris, glue, chalk or pigment. Pre-prepared canvases can be purchased, however some artists prefer to prepare their own. This gives the artist the flexibility to decide on how much of the canvas weave is shown, and it also allows them to play around with texturing the canvas.
What to look for in canvas
When choosing a canvas there are a number of things to consider. Fabric, texture, weight, priming… it all has an effect on the quality of the canvas and what kind of painting a canvas is most suited to.
For smaller, detailed work, the smooth surface of finely woven canvas is recommended. However, for broad brush strokes and large sized paintings a rougher weave is ideal. Weight is determined by the density of the thread, and the higher the density, the higher the quality of the canvas. The ideal weight of cotton should be between 12-15 ounces.
Canvas forms
Canvases are available in various forms and the form you choose will depend on your budget, application and purpose. You can opt for:
Canvas panels
For those just starting out, canvas panels can offer a high quality, more affordable alternative to stretched canvas. Usually made from primed cotton canvas that's mounted onto a rigid board, panels are great for finding your feet in the art world. Lightweight and easy to carry, they're also ideal for students that need to transport their art to and from school or university. Bear in mind that they don't age well, hence why they're good for practice. Our Jasart Canvas Panels are made from 100% cotton canvas board and are suitable for use with oils, acrylics and alkyds.
Stretched Canvas
Stretched canvas is ideal for artists who don't have the tools to stretch their own canvas. This is because stretched canvas is a regular canvas that has already been stretched over a stretcher and stapled to the thin wooden frame when you purchase it. Using stretched canvas reduces the chances that your artwork will be damaged as it holds the canvas in tact, and the stretching is done by cutting-edge technology rather than by hand. However, this does make stretched canvas a more expensive option than other types of canvas. We offer stretched canvases in our canvas range, as well as a canvas stretching service at our Prahran store in Victoria.
Canvas pads
Canvas pads are sheets of primed canvas that are bound within a book. Ideal for creating while on the move, the sheets used in many pads can be stretched or mounted at a later date. Similar to canvas panels, however, they don't age as well and are therefore best for practice. Our Fredrix Canvas Pads are genuine medium-texture artist canvas and have 10 sheets per pad.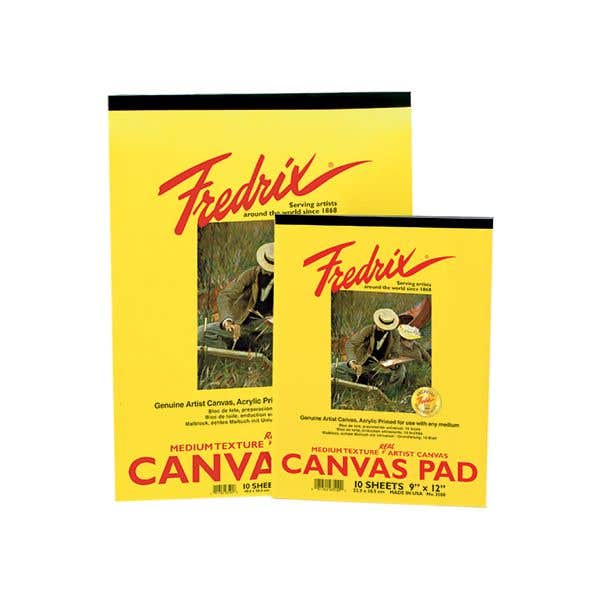 Canvas rolls
If you'd like to prepare and stretch your own canvas or you'd like to create a very large painting, canvas rolls are great. Made from either linen or cotton, they're generally sold by the metre. Our Art Spectrum 8oz and 10oz canvas on the roll is available unprimed or coated with an acrylic primer for custom sized acrylic and oil painting.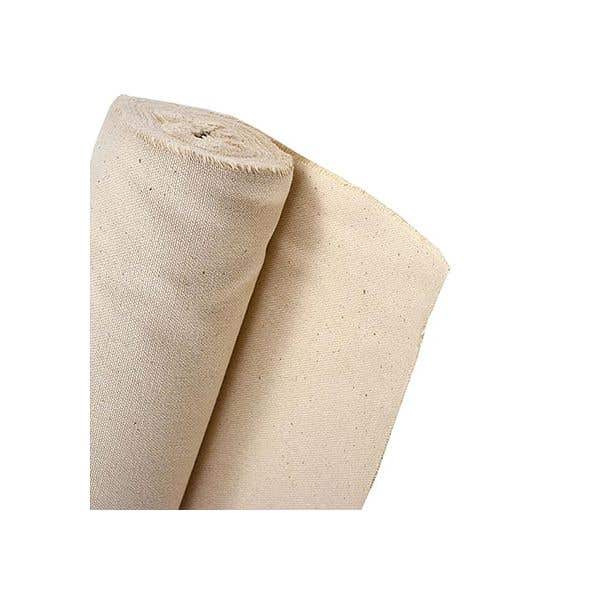 Paints for canvas
When both you and your canvas are ready it's time to create a masterpiece. To do this, you'll need the right paints. Keep in mind that only certain paints will work on canvas, three in particular working the best:
Acrylic paints
Acrylic paint is easy to work with and it dries quickly. Plus, all you need to paint with acrylic is a primed canvas and a brush or palette knife. The thicker the type (sometimes called heavy body), the easier it gets too. If you're using a thin acrylic, know that you'll need a lot more paint to create an opaque layer.
Oil paints
Oil paint is to canvas is what salt is to pepper - a match made in heaven. The thick, viscous texture of oil paints calls for a heavy duty surface to rest on and a primed canvas does just that. Choose either traditional oil paint or the water-soluble kind - either will work beautifully.
Gouache
Gouache will work on canvas, but bear in mind that it will require a fairly thick layer. Water should be kept to a minimum as you'll need your paint thick. Because of the difficulties with gouache, it's best to reserve gouache painting on canvas to small-scale projects.
Painting tips for canvas
With the right paints you can set up your canvas and supplies. Have everything you need within reach for an enjoyable experience. For brushes, choose brushes with long handles and stiff bristles. These will hold up better as your painting than a delicate watercolour brush. One brush shouldn't do everything on the surface.
Prime your canvas if it hasn't already been primed and test your colours. You might like to do this by painting colour swatches on a canvas pad and letting them dry before moving onto the canvas. While they're drying, consider applying an all-over tone to your canvas to instantly set the mood. For instance, a bright white canvas might not be conducive to a dark, stormy skyline.
You might also like to experiment with underpainting by creating an outline in an opposing colour that will add depth and texture to your finished piece even if it's not directly visible when finished.
Drying your canvas
Even small canvases can prove unwieldy when wet so before you start painting, make sure you have a safe spot for it to dry. Ideally this should be on a non-stick surface.
Oil paint is all about oxidation while acrylic paint is about evaporation. This should alter your drying time and the environment in which your painting dries. Generally speaking, you want a warm and dry environment for oil paints and a well ventilated environment for acrylic.
For the best drying of your work, consider purchasing a drying rack. If you choose one with wheels you can dry multiple works efficiently in whichever environment you choose.
Ready to get painting? Eckersley's has everything you need. Shop online today.