Level: Easy
Duration: 30 mins
Let your imagination run wild and create jewellery out of STAEDTLER FIMO Leather-Effect Modelling Clay. Here's a DIY project for some Terrazzo-style Jellery.
Click here for a PDF version of this project and template.
What you will need
---
3 colours of STAEDTLER FIMO Leather-Effect Modelling Clay (we're using Black, Ivory and Saffron Yellow)
STAEDTLER FIMO Acrylic Roller
Baking paper
Scissors

Jewellery rings

Jewellery pliers

Ear studs

Necklace chain

Instant glue

Hole Punch

Oven
---
How to do it
Roll out 2 of your colours of FIMO Leather Effect blocks (Saffron Yellow and Black) seperately into 2mm sheets using the acrylic roller.
Cut little scrap pieces from two colours (Saffron Yellow and Ivory) and place them over the black sheet of FIMO Leather Effect.
Place a piece of backing paper over the speckled FIMO Leather Effect sheet and use a roller to gently roller the scrap pieces into the black FIMO sheet.
Lay the FIMO Leather Effect sheet on baking paper and harden in the oven for 30 minutes at 130°C.
Leave to cool.
Cut and place the template on the FIMO Leather Effect and trace the template with a wipe-away marker. For the earrings, you need 2 of each.

Cut out the pattern with scissors.

Punch holes where you marked.

Assemble the parts of the jewellery using pliers to help.

Lastly, glue the studs on the back of the smaller FIMO circles with super or instant glue.

For the necklace, simplay thread the chain through the holes on either side.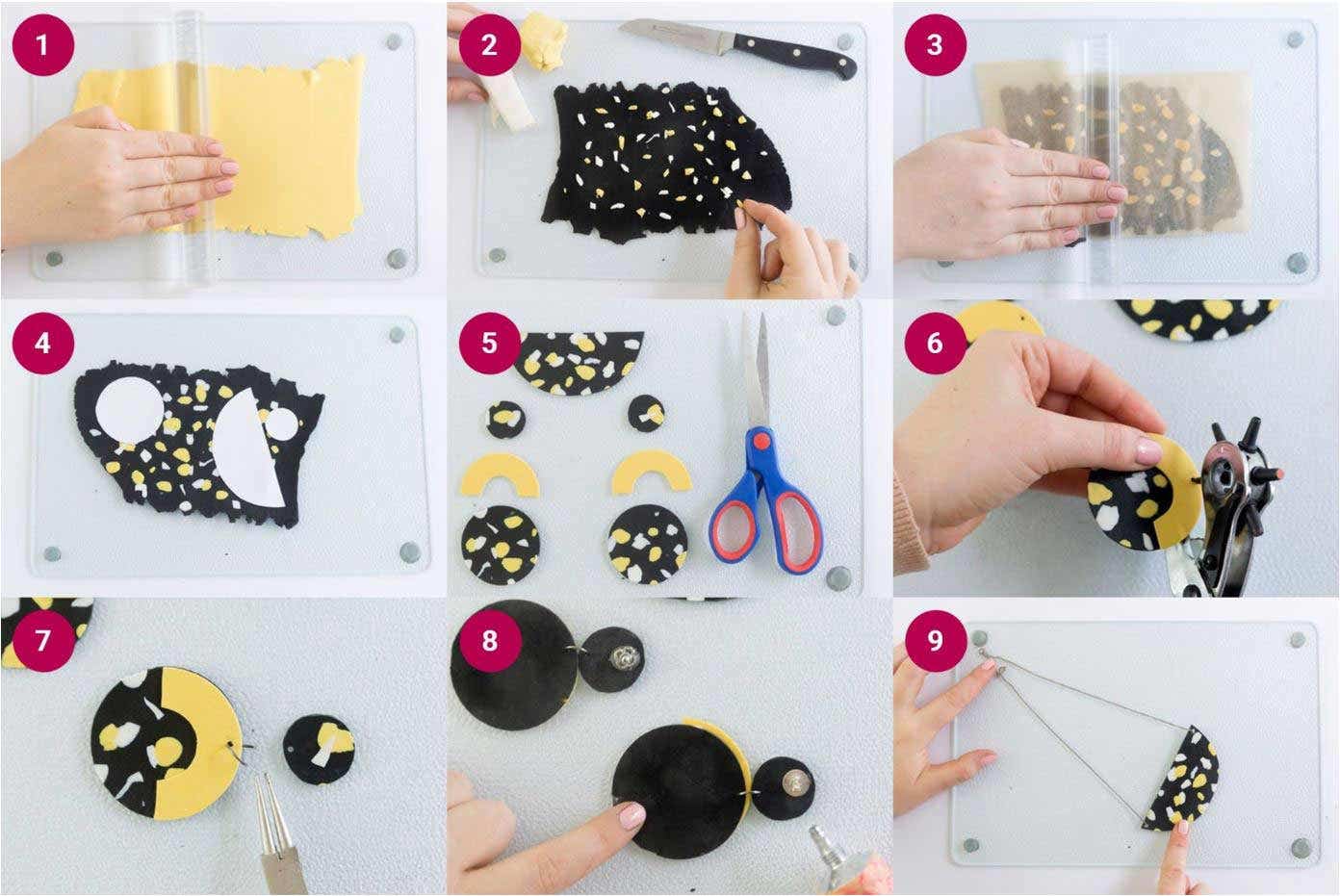 Watch the Video