Level: Easy
Duration: 30 mins
Create your own STAEDTLER FIMO Leather-Effect Tassels. The perfect gift idea or a great little accessory for yourself!
Click here for a PDF version of this project.
What you will need
---
4 colours of STAEDTLER FIMO Leather-Effect Modelling Clay (we're using Saffron Yellow, Olive, Watermelon and Berry)
STAEDTLER FIMO Acrylic Roller or Clay Machine
Baking paper
Bead Piercing Needles (alternatively use a thick needle)
Cotton Cord
Scissors

Spring hook key ring

Super glue

Pencil

Oven
---
How to do it
Roll out 2 of your colours of FIMO Leather Effect blocks (Watermelon and Berry) seperately into 1-2mm thick sheets using the acrylic roller (Setting 6 for the Clay Machine).
Place on baking paper and cut out a rectangle in each colour using a blade to 6.5cm x 12cm.

Mould 1 portion of FIMO leather-effect saffron yellow into a ball.

Roll 1 portion of FIMO leather-effect olive into a cylinder shape and cut out a piece about 1.5 cm long.

Skewer the pieces of saffron yellow and olive using your needle (the hole just needs to be big enough to put the cord through). Balance these over an oven safe cup or mug to prevent dents when hardening.
Harden these and the sheets in the oven for 30 minutes at 130°C.
Leave to cool.
To create the tassels, on one side of the coloured sheets, mark out a line with pencil approximately 1cm from the long edge.
Then cut thin strips approx 2mm apart up to the pencil line.

On the side you drew the line, coat the 1cm strip with super glue and roll as tightly as possible. Hold together until the glue sets.

Thread the spring hook key ring onto a piece of cord about 40 cm long. Double the cord and thread first the connecting piece and then the saffron ball onto the doubled cord.


Tie a knot after each bead to fix it in place. Then thread each of the two tassels onto a single string of the cord. Tie a triple knot and cut off the ends of the cord. Push the knots inwards so that they can't be seen.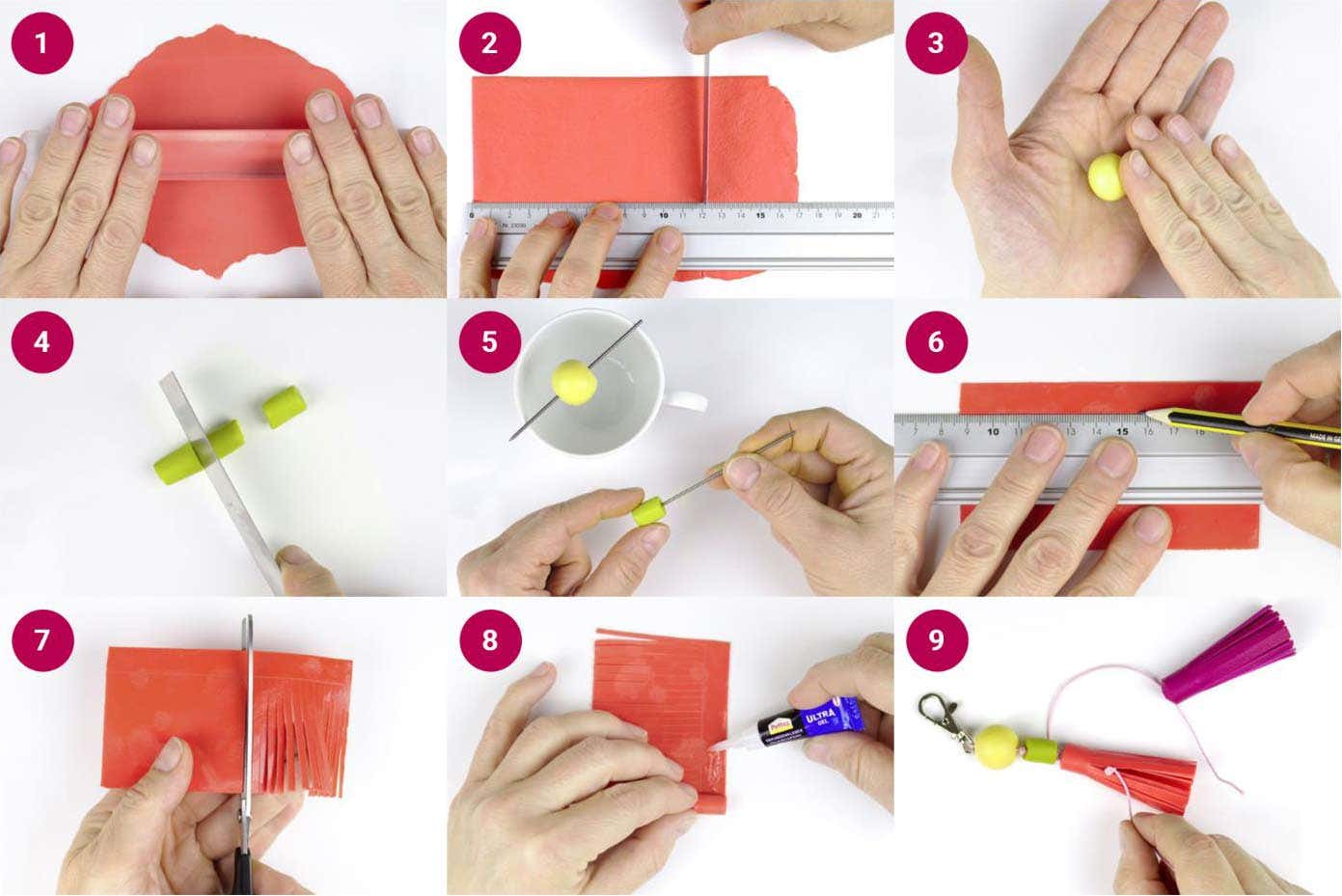 Watch the Video