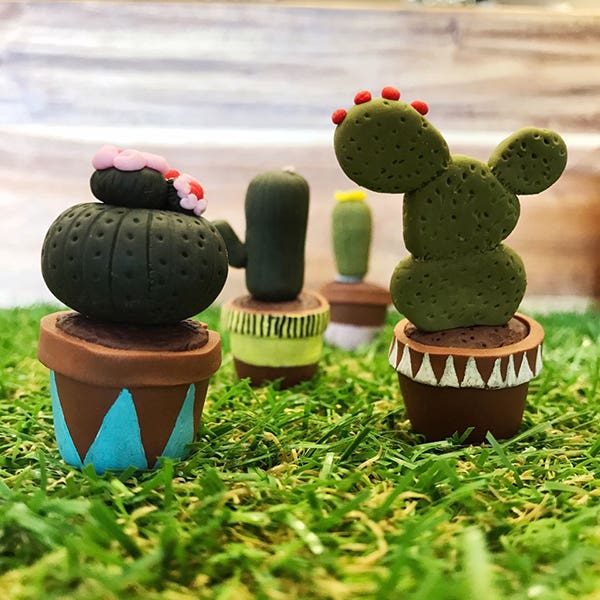 Click here for a PDF version of this project.
What you will need
---
Fimo in yellow, black, two shades of brown
Pink and red (optional)
A blade or knife
Acrylic paint
A small flat brush
Posca pens (optional)
Toothpicks (optional)
Craft or super glue (optional)
---
How to do it
To make the pots roll one shade of brown into a ball.
Flatten the top and the bottom by pushing them down onto a hard surface.
Roll the now rounded side out again to make it flatter, you should now have a rough pot shape that you can adjust if desired.
Use some of the darker brown Fimo to create the dirt by flatting it out into a round shape so it can fit on top of your pot. Push it onto the pot and use your blade or knife to push texture into it.
Now roll out the brown used for the pot until it is about 2or 3mm thick and cut into 5mm strips. These now wrap around the top of the pot to create the edge.
•To create the dark green used for the cactus mix yellow with small amounts of black until you get the desired colour.
The cactus shapes can be created in different ways, mainly by rolling balls or cylinder shapes and flattening ball shapes. They are then scored or dotting with your blade or toothpick to create texture. The pink and red can be rolled into tiny balls to and pressed on as flowers.
To join the cactus to the pot you can press them firmly together.
After the fimo is baked according to instructions and cooled the pots can be painted and decorated with the acrylic paint and posca paint pens.
The pot and cactus can be attached with craft or super glue if they happen to come apart after baking.