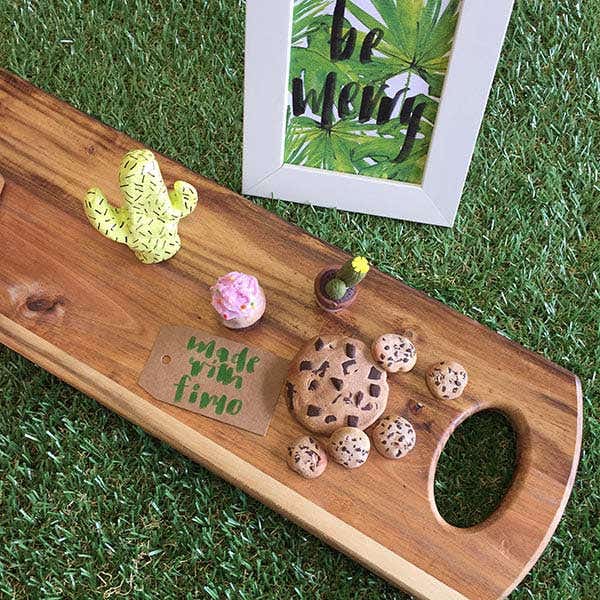 ---
A beige coloured FIMO (Sahara 70)
A brown or chocolate Fimo
A craft knife or blade
A range of neutral coloured soft pastels, in browns and yellow ochre shades
A small soft paint brush
A stencil brush or something similar for creating texture.
---
How to do it
To make the choc chips firstly roll a piece of the brown fimo into a long very very thin spaghetti shape, then using the craft knife or blade randomly chop the piece into tiny little chunks.
Roll the beige colour into a rough ball and then randomly add the choc chip chunks and gently roll and mix them through the ball.
Press the ball down into a cookie shape.
Create texture on the cookie by pressing the stencil bush or something similar around the edges and onto the top of the cookie.
Put a couple of the choc chip chunks on top.
To create the realistic cooked look of the cookie the soft pastels are needed. Grind the pastels onto a piece of paper so you have some dust. This dust can now be applied with a paint brush gently to the edges and bottom of the cookie, blend light colours into darker ones at the edges. This process can take a little practise.
Bake cookies according to Fimo instructions.