Level: Easy
Duration: 30 mins
Keep your desk tidy with these trendy tropical leaf bowls. Perfect for your jewellery or bits and pieces.
What you will need
---
2 colours of STAEDTLER FIMO Soft Modelling Clays 57g (we've used white and emerald)
STAEDTLER FIMO Acrylic Roller
Modelling Tools
Knife
Ovenproof or ceramic bowl approx 12cm in diameter
Baking Paper
Oven
---
How to do it
To make a marbled bowl, shape one block of FIMO soft white into a cord and do the same with a block of FIMO soft emerald.

Twist the two cords together and roll out into a longer cord.

Shape the cord into a ball.

Roll out the ball into a cord and repeat until you have your desired marbled pattern.

Roll out the ball into a sheet approx 0.5cm thick using the acrylic roller. Do this on baking paper to make it easier to lift.
Cut out the template and place over your FIMO sheet. Cut around the template using a knife.
Roll out a thin cord from the remaining marbled FIMO. Place the cord in the middle of the leaf and press down slightly.

Using your modelling tools, score smaller veins in your monstera leaf, going out from the cord (vein) in the middle.

Remove the FIMO sheet from the baking paper and place it face down on an upturned ovenproof bowl.
Harden your FIMO leaf bowl on the ovenproof bowl in the oven for 30 minutes at 110° C / 230° F and then leave to cool on the bowl.
When it's completely cool, simply remove your monstera leaf bowl from the other bowl and you're done!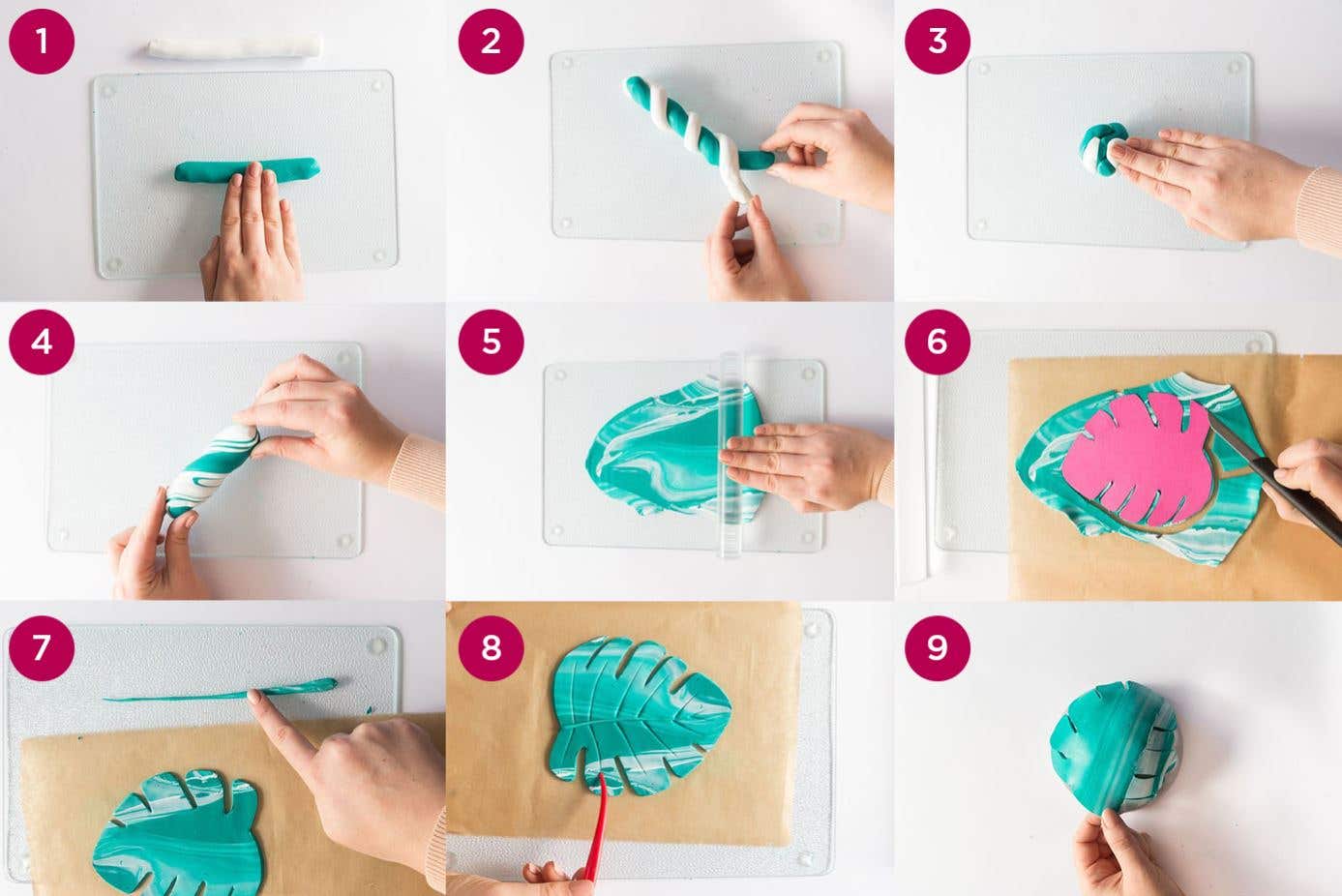 Watch the Video