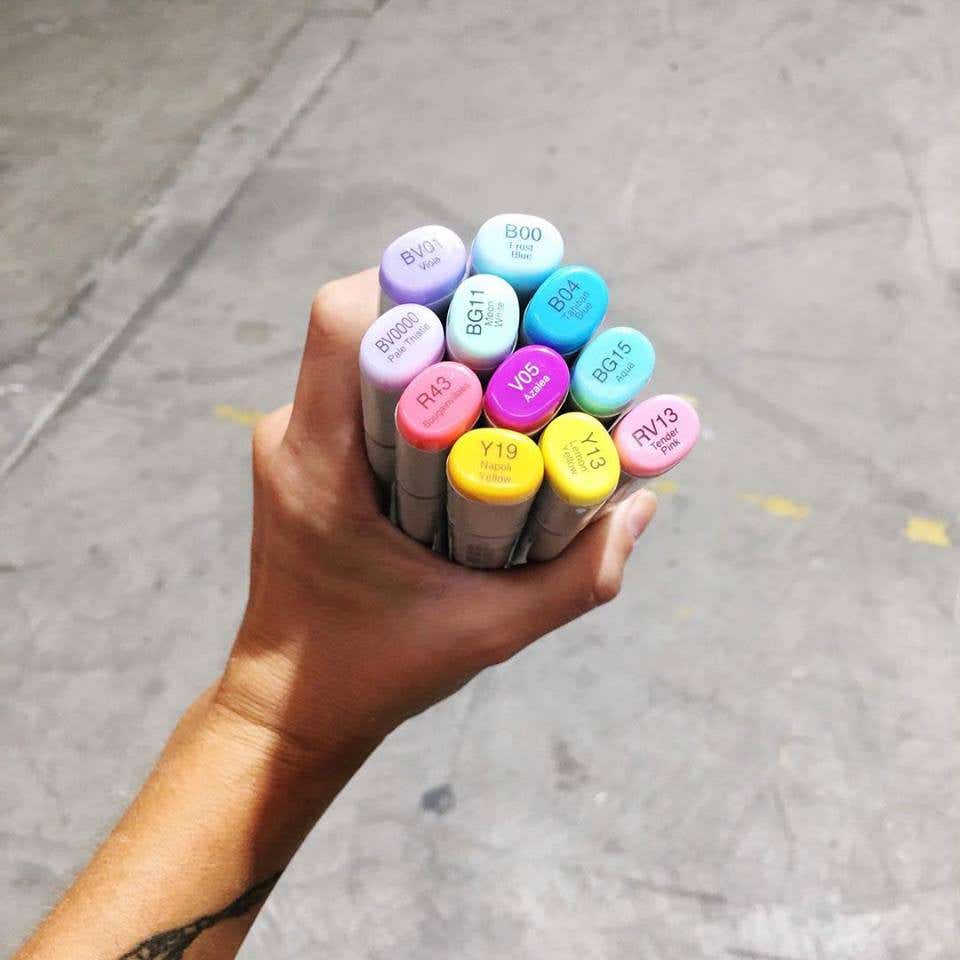 What are Copic markers?
Investing in Copic markers is a lifetime investment, as the markers are refillable and the nibs can be replaced. Committing to such a lifetime investment may seem daunting, but this one is worthwhile. Copic is regarded by professionals, artists, illustrators, designers and crafters as the highest quality alcohol marker on the market, with all markers made in Japan.
With three different types of markers and 358 colours to choose from, Copic offers the widest range of alcohol markers in the world. The ink is non-toxic and uses the quality dyes, resulting in the creation of vibrant and intense colours. There's also 48 greys to choose from in the Copic colour system, which enables you to have the most versatile selection of colours and tones to meet all your creative needs.
But what else is there to know about Copic markers? Read on with our Copic Marker Guide to find out.
How do you colour evenly with Copic markers?
Start at one side, colour in small circles using the side and evenly saturate the ink. Keep the nib without separating from the paper, and colour in small circles to gradually bigger circles.
Benefits of Copic markers
Copic markers are alcohol based and translucent, making them perfect for layering, rendering and blending. The large Copic colour system allows you to easily select the perfect colour combination to achieve variation in colour tones and to add depth, dimension and shadow to your art work or professional piece.
In addition, Copic markers are:
Vibrant
The alcohol-based ink of Copic markers dries acid free and won't destroy paper fibres the way that water-based inks do. The ink applies smoothly, giving a luminosity and vibrancy that simply can't be replicated with other markers.
Permanent and non-toxic
Free of harmful chemicals and overwhelming odours, Copic markers are more enjoyable to use than other markers, making them a favourite with people who have chemical sensitivities.
Refillable
Many artists don't realise that all Copic markers are refillable, spreading the cost of the markers over the long-term. Even the nibs on Copic markers are replaceable, so once you purchase one marker it's yours for life. This makes them the most affordable, long term, and environmentally-friendly option.
Dependable
Copic markers have specially designed airtight lids to ensure your markers don't dry out whilst being stored. Always ensure that the lid clinks shut to prolong the life of your markers. Since the markers are all refillable they should last you a lifetime.
Unique and flexible
The Super Brush Nib on the Copic Sketch and Ciao marker is handmade in Japan and enables an extra smooth blend. It offers ultimate flexibility, with the ability to create thin lines and colour in tiny spaces.
Different types of Copic markers
Understanding the different types of Copic markers available will help you decide which marker best suits you to make a sound investment. Remember that all Copic markers use the same ink and are all refillable so you can mix and match your markers. But each type does have its own qualities:
Copic Classic
The first and original Copic marker, known as Copic Classic, has existed for more than 30 years. The Classic marker offers a unique square body which prevents the marker from rolling off your workspace. Students, professional illustrators, architects, and designers love the versatile double-sided chisel, fine point nibs, and various nib options available. With 214 refillable colours in the range (that are also compatible with the Copic Airbrush System), it's a great choice.
Copic Wide
Exactly what it sounds like, Copic Wide features a very broad tip, making it ideal for backgrounds and large areas. There are 36 colours in the range, including one empty marker so you can create a wide marker in any colour you choose.
Copic Sketch
Copic Sketch offers the widest colour range from Copic, with 358 refillable colours and four different nib options available. The chisel nib and unique, handmade super brush nib provide the ultimate colouring flexibility, making this range a favourite amongst illustrators, artists and crafters. The markers are also compatible with the Copic Airbrush System.
Copic Ciao
Copic Ciao markers were originally introduced to appeal to young manga artists who were looking for a more affordable marker, but still wanted the Copic quality. The Copic Ciao marker is smaller than the Sketch marker and holds less ink, but is still refillable and is available in 180 colours with both a super brush nib and a chisel nib. Although the markers don't contain the colour reference on the caps (instead it's on the barrel of the marker), the colours used in the lids are based on the actual ink contained in the marker so provide a good indication of the actual colour. The Copic Ciao marker is the perfect choice as an introductory marker or when you have a limited budget but still want the Copic quality and a diverse colour range.
Who uses Copic markers?
Copic markers can be used for journaling, mixed media arts, comics, storyboard illustration, fashion design, interior design, manga, anime, landscapes, rubber stamping, tattoo art, and more. They're popular with comic artists, architects, product designers, graphic designers, industrial designers, calligraphers, quilters, scrapbookers, and anyone who loves colour and wants a sustainable, refillable colouring system of the highest quality.
To see some of the magic that can be created with Copic markers, we recommend checking out some of these amazing artists who love to work with Copic:
Stephen Ward
Australian-based artist Stephen Ward shows what's possible with Copic markers, creating art based on popular comic book characters like Batman, Ironman, Captain America and the Joker. Vibrant, detailed and 3D-like.
Chihiro Howe
One of the artists from iii Academy, Chihiro Howe is an original manga from Copic that teaches you how to use Copic products through a story filled with bright colours and cute, funny characters.
Niki Bee
Niki Bee creates personalised and handmade cards. She relies on Copic markers to draw her intricate designs on 10.5cm x 14cm panels.
Cassy Lyttle
Inspired by Chagall's whimsical designs, Cassy Lyttle creates original artworks of a contemporary abstract design suited to any interior decor. She uses Copic, along with a range of other mixed media, in her makeshift home studio.
Matt Falconer
A freelance illustrator and aspiring tattoo artist who creates custom illustrations, Matt Falconer uses an array of mediums to create his art, including Copic markers, acrylics and pencil.
Investing in Copic
If you're serious about using Copic markers for art, craft, or professional designs, you won't be disappointed with the results once you've got the hang of them. If you're a newer artist and aren't sure what medium you're comfortable with yet, you might want to look at starting with professional coloured pencils first, such as Prismacolour or Faber-Castell. These are still a great option for creating vibrant pictures, but are more affordable when you're first starting out. Copic markers are also compatible with most coloured pencils and can be used together to get excellent and diverse results.
Want markers that will offer you unsurpassed quality and will last a lifetime? Shop Copic today at Eckersley's and take your art to the next level. You'll be hooked in no time. Hope you've learnt a thing or two with our Copic Marker Guide!
Read more Copic articles here:
Wreath Place Cards with Copic Ciao Bright Set
Copic and Prismacolour Drawing: Ultraviolet
Heart Doodle Journal Page for Copic Australia