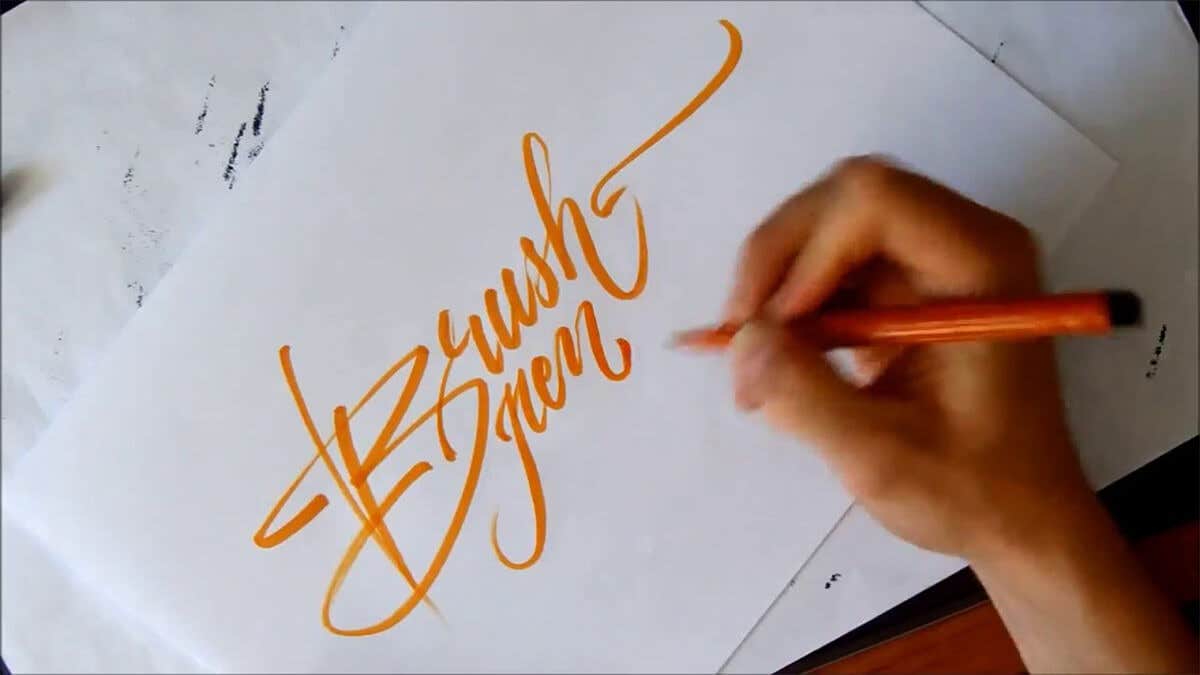 Calligraphy skills, like anything, take time to hone. Odds are you'll encounter a bit of frustration while learning it, but forge ahead and you'll hone the skills necessary to produce 'beautiful handwriting' - the very definition of calligraphy. Calligraphy practice gives you a set of skills and techniques for positioning and inscribing words so they show integrity, harmony, rhythm, heritage and creative fire. Calligraphy is the music of the written word.
You probably know that practice makes perfect. More important than that, however, is that practice makes progress. This is certainly true when it comes to calligraphy - the more practice you get, the more capable you become as a calligrapher.
Why calligraphy is still relevant today
Like many styles of writing, calligraphy has changed throughout the ages. From the hardened stance of the middle ages to the sheer eloquence of the Renaissance, calligraphy has seen its fair share of change.
Today, calligraphy is popular for weddings, ceremonies and other official events that require an invitation, menu and other written material. It remains important in modern times for many of the reasons that it was important in ancient times; it's a visual art that's expressive, harmonious and skilful in manner. Calligraphy will long continue to flourish.
Can anyone learn calligraphy?
Anyone can learn calligraphy, that's not the same as saying that it will be easy. Calligraphy requires practice of routine drills over and over again. Dedicate time to this practice, however, and you will get better.
If you're prepared to learn the basics, you can learn calligraphy. These are referred to as 'strokes'. All of your letters are made up of strokes. With a focus and dedication to producing consistent strokes regularly and you'll develop a consistent style. Consistency is the key to calligraphy.
Pieces Calligraphy has a great series of tutorials on all the brush calligraphy basic strokes. Give them a look, and then get practising.
Choosing the right pen
The most important tool for creating stunning calligraphy work is a calligraphy pen or nib and holder. A good calligraphy pen will bring the beauty out in every letter.
Get to know the parts of a calligraphy pen and the style of calligraphy pens available. A rectangular cartridge-filled pen, a traditional dip pen and a disposable pen are the three types of calligraphy pens you can choose from. Generally speaking, cartridge-filled pens are user-friendly and ensure clear writing. You may also consider using a:
Quill Nib
Giving a similar feel and style as a classical feather quill, quill nib pens are perfect for sketching, drawing and calligraphy in a romantic style.
Ink brush
Ink brushes are commonly used in Chinese calligraphy and were invented in China around 300 B.C.Ink brush pens differ greatly in terms of size, texture, material and cost and certain kinds of brushes are more suited to certain script styles. Normally the brush is made from goat hair.
Sign pen
Sign pens offer the ability to draw bold lines smoothly with a fine, acrylic fibre tip. Useful for all art, craft and design activities, Pentel sign pens offer wonderfully dense colour that will help you achieve expressive and controlled character writing. Their flexible brush nibs make sign pens great for graphics, illustrations and scrapbooking too.
Multiliner
Multiliner calligraphy pens are a must-have tool for artists and illustrators - the fine point lending itself to detail drawing with precision. In calligraphy, multiliner pens can be used in a wide range of hand lettering techniques and offer no-bleed pigment ink that's archival and acid-free.
Fountain pen
Fountain pens give you everything you need to artistically refine your handwriting style. For the writer seeking something a little different for everyday use, a fountain pen is a must. Slim and elegant in the hand, fountain pens are perfect for writing invitations and inking drawings, to taking notes in class.
How to hold your pen
Most people maintain a curled grip as they write, letting fingers control the pen. In calligraphy, you want your grip to be relatively relaxed. Your index finger should have only a slight bend to it and the pen should be supported (rather than controlled) by your thumb, index and middle fingers. That goes for both right- and left-hand people.
As you're writing, try to keep your index finger only slightly bent. Your finger movement should be minimal, with most of the movement coming from your arm rather than your fingers. Sit up straight and breathe regularly.
Positioning your paper
To achieve the best results with your chosen pen, you need to position your paper correctly. You want a 45 degree angle from the base of the paper in line with your pen. If your natural way of writing is to hold your pen upright, position your paper on an angle. Watch this video to learn more. Choosing the right paper for calligraphy is also important.
Improving your calligraphy skills
With the right lettering supplies on hand you can perfect your calligraphy skills with how to calligraphy guides and Instagram. Follow accounts that inspire you and search relevant hashtags to see what others are doing. Save/screenshot things you love and use them for inspiration. Copy different styles, learn from them, figure out what it is you like about them, and then tweak them to make your own individual writing style.
Another thing you can do is to set yourself goals. Seeing how you've improved is one of the most affirming things you can do for yourself. Get yourself a sketch pad and:
Fill a page with a single letter of the alphabet
Take an empty page and focus on a single letter. Write the date at the top for reference and each week repeat the exercise.
Create alphabetical word art with descriptive words
Practice the art by penning lists of words beginning with every single letter of the alphabet in specific categories. For example, go from A-Z choosing a colour for each letter and then create individual artworks for each word using hues and strokes which convey the feeling of that colour.
Draw inspirational quotes and phrases
Try working with inspiring words, famous quotes or words you rarely use. Write a new word in a journal every day and not only will you practice your writing, you'll enhance your vocabulary while you're at it.
Setting up the right environment
Your practice environment is nearly as important as what you are working on. Make your calligraphy practice time a relaxing and indulgent part of your day. Put on your favourite podcast, listen to some music, work on a clean, uncluttered surface and light some scented candles. Keep a drink and snacks nearby for sustenance.
The more effort you put into creating an environment you enjoy, the more you'll love the writing process. Try introducing a calligraphy board to your workspace, ideal for calligraphy and watercolours. Improvement makes time, so why not improve in style?
How to get started with calligraphy
Ready to get started in the world of calligraphy? Carefully compiling your calligraphy kit will ensure you have high-quality, effective supplies from the beginning. At Eckersley's Art & Craft we stock high-quality books, inks, pens and markers, nibs and holders. We also stock calligraphy sets if you'd prefer not to make your own.
Check out the entire calligraphy supplies range at Eckersley's today.