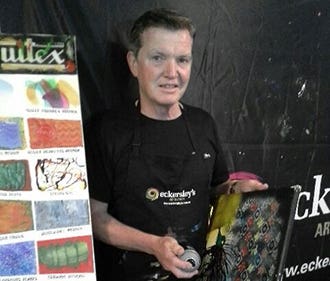 Current Role:

Sales Representative
Department:

Education
Location:

NSW/ACT


What inspired you to join Eckersley's and why?
I had previously worked at Deans Art (and other associated companies) and had resigned after 10 years and was a stay at home dad for our 18 month old son Mitchell. In 1997, I received a call from Albert Rea, the Eckersley's GM at the time, asking if I would like to manage the St Leonards branch that they had recently purchased from Pamela and John Fitzgibbon (NAM & EC owners) along with Artistcare from Esselte. Not sure if it was the return to a 2nd income or if it was the challenge of conversing with adults again that inspired me.
What stores/departments within Eckersley's have you worked in? And also the roles you have worked?
St. Leonards retail store manager, Products, Education Catalogue, Education Manager, currently I am an Account Manager for Education & Trade sales.
How many years have you dedicated to the Art & Crafts industry?
Since mid 1986, so almost 30 years!
Do you have an art / craft background, if so tell us more about it?
Well I don't know if picking and packing in an art supply company warehouse in 1986 counts as a background, but I was interested in Architecture as a high school student, but the thought of 6 years at Uni ended that aspiration!
What trends and changes have you witnessed over the years in the Art & Craft industry?
The move from handmade commercial artwork done with Letraset rub down lettering and hand drawn/painted illustrations to DTP – Desktop Publishing and computer generated artwork.
The end of the long lunch with ad agencies when the FBT rules came in.
The speech by the Jasco GM at Circular Quay in the 1990's that stated, that for art stores to move with the times, they needed to get on board with catalogues/flyer distribution to households and to embrace "hot pricing, etc." promotions, and to develop new or maximise use of existing customer relationship programs.
The move in/out of the market of corporate players
The resurgence of "hand-made" items and a return to traditional values in recent years
The unfortunate downside of the rationalisation and outsourcing of Tertiary education provision. Whilst we are surrounded by art & design in every single facet of our lives from day one, governments feel that "there is no career in the arts" and this is filtering down to parents and career counsellors in regards to students achieving appropriate UAC marks, so Visual Art or Design doesn't get a look-in as an elective subject for year 9 and beyond. It's my mission in schools and art education to redress this ill-advised policy and its shortcomings.
The current Colouring in craze.
If you could describe the characteristics that Eckersley's as a brand portrays, what would you say?
I think we have taken the scary notion of an "Aladdin's cave" of an eclectic "out of reach" art store into a mainstream approachable and inspiring destination for people of all abilities.
What has been your fondest memory of working with Eckersley's so far?
I think it has been the people – they have all brought different levels of expertise, passion and commitment to their roles. This has resulted in growth from a handful of stores to a major retail presence via a consistent business model.
What is the funniest memory you have of working at Eckersley's ?
It was fun stepping out of my comfort zone and donning the Texta Dog suit for an International Disability Day event in 40 degree heat in Parramatta square with local school children in the early 2000's – I think I sweated off 5 kilos that day… no thought of WH&S back then!
Favourite quote and why?
"Glass half empty/glass half full" – every objection or hurdle presents a possibility to create an opportunity for a better outcome.
Where do you see Eckersley's in 5 year's time?
Becoming Australia's pre-eminent Art & Craft supplier through sustainable retail growth, major consumer marketplace recognition and with an enhanced support base for educational institutions across the nation.