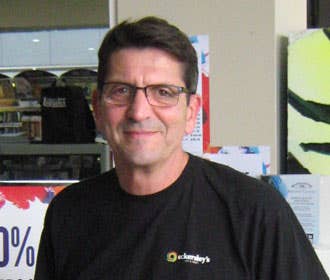 Current Role:

Store Manager
Department:

Retail
Location:

Newcastle, NSW

What inspired you to join Eckersley's and why?

I was working part time jobs and wanted something more. I applied at Hunter Valley Art Supplies and they liked me. It was a new role, mostly in the store room and some hours in sales.

What stores/departments within Eckersley's have you worked in? And also the roles you have worked?

I've been at the Newcastle store since 1990. Early 1991 we became Eckersley's and there were many changes. New management offered me the schools representative role which I held till 2002. I then moved into the store manager role.

How many years have you dedicated to the Art & Crafts industry?

25 years with Eckersley's, plus a few years before that with a ceramic supplies store.

Do you have an art / craft background, if so tell us more about it?

I have a Bachelor of Visual Arts Degree with a major in printmaking. I haven't picked up a pencil or paintbrush for a while, although it's always my intention. I'm more creative in the garden these days.

What trends and changes have you witnessed over the years in the Art & Craft industry?

I've seen many products disappear; mainly drafting tools and graphic supplies like rub down lettering and textures. People still ask for old school items, it's fashionable again.
If you could describe the characteristics that Eckersley's as a brand portrays, what would you say?
I think it's the advice and guidance given between the staff and customers. It's all about being helpful and personable.
What has been your fondest memory of working with Eckersley's so far?
Again it's about the people I've met. Seeing staff and customers succeed when they've worked hard.
What is the funniest memory you have of working at Eckersley's?
I have been asked for plaster asparagus instead of plaster of paris. Oh, and someone wanting to paint murials.
Where do you see Eckersley's in 5 years' time?
I've seen many changes so I know how very different things can be in 5 years. I'm thinking about how customers can access more information or trial product in store. A mini studio and library in each store, and a coffee cart!