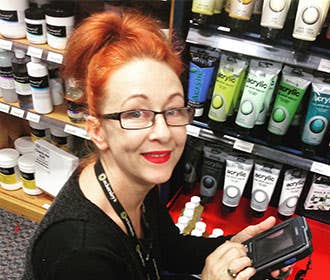 Current Role:

Store Manager
Department:

Retail
Location

: Brisbane, QLD

What stores/departments within Eckersley's have you worked in? And also the roles you have worked?

I started off as a casual worker in sales, stuck with it and moved to full time, then to 2ic then eventually to Manager of the store.

How many years have you dedicated to the Art & Crafts industry?

30 years

Do you have an art / craft background, if so tell us more about it?

Like most artists that didn't have the luxury of attending University I would have a crack at anything (whether it was a paid job or not) e.g. hand painting fabric / screenprinting / faux finishes / gilding / murals (domestic and commercial) in acrylics & oils, small plein air works in watercolour, even house painting – I WILL PAINT ANYTHING!!!!

What trends and changes have you witnessed over the years in the Art & Craft industry?

The hideous splatter painting of the 80's, Faux Finishing revival in the 90's, Scrapbooking in the 00's and Colouring in right now.

If you could describe the characteristics that Eckersley's as a brand portrays, what would you say?

I would say that Eckersley's supports the notion that anyone can have a crack at making art - and our products range from entry level to artist quality. That, and "if we don't have it on our shelves, we can probably source it for you".
What is the funniest memory you have of working at Eckersley's?
There was this female staff member who was serving an older gentleman with a bit of a stutter. She paced up and down the shop floor for about 45minutes from one end to the other while the gentleman followed behind. On glancing over to the counter the staff member saw another female staff member buckled over laughing. She continued serving the gentleman until he left. At that point she commented that the "shop is a bit drafty today" when the other girl behind the counter said "check your skirt" WHICH WAS TUCKED INTO HER UNDIES !!!!!! Unfortunately this is a true story.
Favourite quote and why?
"If it sticks – it's working !!" - because it's true!!
Where do you see Eckersley's in 5 years' time?
As the primary destination for art & craft supplies for all levels of skill, from the beginner to the professional with strong links to the Arts Community.