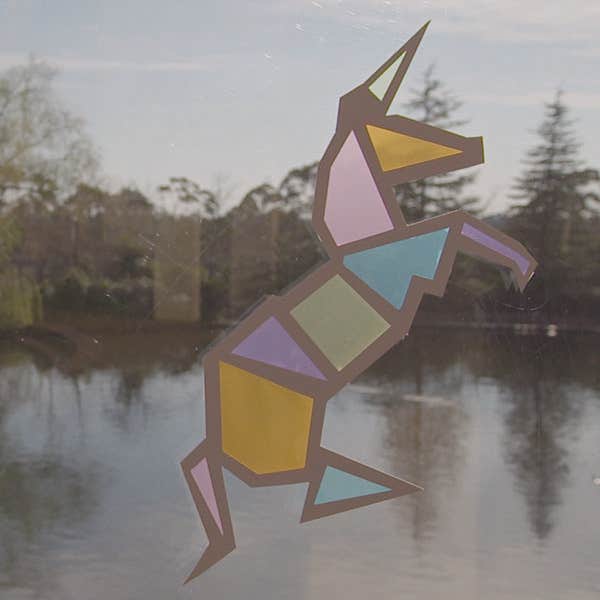 With cellophane and card, Get Arty Artist, Ally, makes a unicorn design.
For a PDF version of this project, click here.
What you will need
---
Celco scissors
Celco ruler
Pencil
X-Acto #2 Precision Knife
White cardboard (about 3mm thick)
Tape
Cellophane / coloured transparent folders
Sticky putty
---
How to do it
Use your ruler and pencil to mark out your unicorn shape on your card. We are going for a geometric style so I'll use the ruler to get my straight lines.
Tip: To learn how to draw the unicorn, view the YouTube video for inspiration.
Once you're happy with your outline, use your ruler to roughly mark out a 1cm border inside the outline (don't worry if the border isn't the exact same measurement all the way around!). You can also add the square and triangle shapes here as well. With a pencil colour in where you will cut out (this makes it way easier!).
You should have an adult help with this bit - with a blade and ruler, cut out your inside shapes, these will make our "windows". Once you've cut out the inside, the cut around the outside.
Now grab your cellophane or coloured folders and fill in the windows. I just measured how much I needed by holding it up against each shape and cutting it out with scissors. Use tape to fasten plastic.
Turn over to the neat side and finished! Use sticky putty and stick on a sunny window (or you could hang it too!).