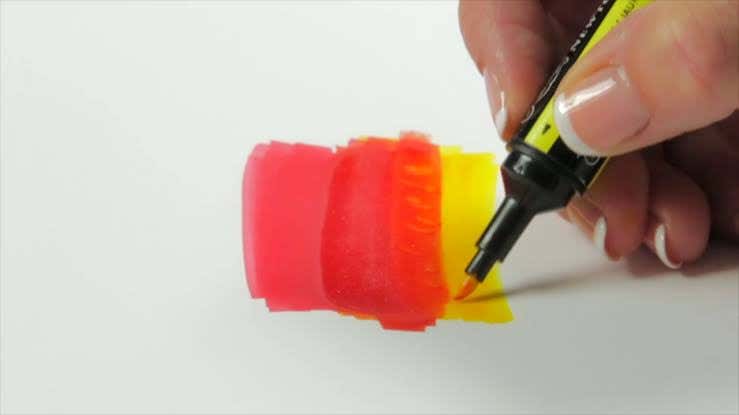 Markers are a go-to colouring and linework choice for traditional artwork. They're bright, distinct, whimsical, and each marker brand offers different features to help your work stand out. The "best choice" of markers depends on the style of artwork you do.
Markers are used by artists, architects, designers and many other creatives for different reasons. They are loved by illustrators, lettering artists and impressionists. They're an excellent portable and low maintenance medium and for some, the lack of mess is what makes markers worth learning. For others it's the fact they dry extremely quickly, making them great for working through sketches at a quick pace.
Marker drawings are popular amongst a range of different design disciplines, from the more technical graphic design to popular culture artists, in particular comics and manga drawing. When used for impressionism they develop the tone and detail of a painting. When used for realism they give a reflective photographic finish to an image. In other words, there's lots to love about markers, but if you're still not convinced, check out work from artists such as Tom Deslongchamp, Stephen Ward and Vince Okerman. Take some inspiration from these different marker styles and give it a try. To get you started, let's take a look at the different markers you can use…
What makes art markers unique?
Art markers have gone by various names (ie. marker pens, artist pens, brush pens or paint markers) and are produced by numerous brands. Besides the Crayola and Texta markers you were probably introduced to as a kid, you may have also heard of Copic or Prismacolor - two leading brands for art markers.
Markers are a must for any creative soul that likes to colour, and at Eckersley's, we stock only the best. You'll find quality markers from brands like Winsor & Newton, Copic, Tombow, Artline and Stabilo in store and online. We also offer markers in a range of single colours and pack options, so you can get as many or as few as you like. Experiment with colour and then come back for more.
Types of art markers
Investing a little in the right artist markers can make all the difference. The more reliable the marker, the better it will be to use and your drawings will improve as a result. Favourite artist markers include:
Copic Markers: Many artists swear by the colour quality of Copic Markers, and for good reason, as they allow artists to perfectly blend a huge range of colour variations. They're available in a large range of colours and sizes, and work impressively on a range of surfaces, including wood, paper, fabric and more.
Copic Ciao Markers: Also from Copic and available in a number of colours and sizes, these markers are ideal for experienced artists and enthusiasts looking to add to their marker colour collection. They are a very adaptable range, with nibs suited to either small details or covering large areas.
Posca Markers: These come in a range of sizes and are water-based paint markers, meaning they work on almost any surface, are waterproof and long-lasting.
Winsor & Newton ProMarkers: These high quality markers are ideal for new artists beginning experimenting with colouring with an alcohol-based marker. Similar to the Copic Ciao Marker, they have two nibs suited for detailed work or filling in large areas.
Tombow Fudenosuke Colour Pens: With a flexible brush tip allowing for drawing both thick and thin lines, these pens are perfect for calligraphy and lettering. They come in a range of colours, providing ample choice.
Tombow Dual Brush Pen: These brush pens also have two tips and are water-based for the creation of any line or colour desired. They're highly resilient and can even be dipped in water for creating watercolour work.
Art markers vs felt tip
'Felt tips' are typically soft tipped with a water-based, non-permanent ink that is generally child-friendly. 'Markers' are typically alcohol or solvent-based, hold permanent or semi-permanent inks and have various nib types. Alcohol-based art markers are not considered child-friendly because they can have a strong odour.
The biggest thing to come to terms with when drawing with markers is that they're permanent. Alcohol or solvent-based pens let you layer colour and control darkness, but they can be prone to bleeding. To get around accidental bleeding between line art and colouring, use a pigment-based fineliner pen which won't react with the alcohol ink in your markers. This will preserve the neat outlines that you're after.
Alcohol-based marker features
The great thing about alcohol-based markers is that they are highly versatile. Because they dry consistently and blend beautifully, alcohol-based markers can be used to create a variety of artwork. The ink in alcohol-based markers is made up of a dye suspended in alcohol and they usually have a distinct scent due to the chemicals used. Intended for professional use, they are usually more expensive than water-based markers or traditional felt tips. Features include:
Quick drying permanent colour
Can be used for a variety of applications
Easy to blend
Smooth and bold colour
Benefits of alcohol-based markers
There are many reasons to choose alcohol-based markers over water-based markers.
Cost and quality: While alcohol-based markers tend to be more expensive, they are generally better quality and most of them are refillable. This means they are costly to begin with, but will save you money long-term. Some markers even have interchangeable nibs meaning you can switch between styles without the need to buy more markers. When nibs wear out, simply replace the nib and you're good to go again.
Blending: Alcohol-based ink is better for blending because the isopropyl alcohol inside doesn't soak into the paper like water does. This means that the pigment dye can move easily across the surface of the paper.
Quick drying: Isopropyl alcohol evaporates much faster than water, meaning that colour dries faster. This also makes ink permanent and workable with paper, plastic, metal, cloth and more.
Best applications for alcohol-based markers
Alcohol-based markers are loved for all kinds of applications, from craft, drawing and design to rendering, architecture and fashion. This is because alcohol-based markers can be used on paper, leather, wood, plastic, fabric, faux fur, cardstock and more. Choose pens with a low odour and you can work in small confined spaces with little worry.
For drawing, alcohol-based markers are best used with paper or card that's been specifically designed for alcohol markers. Alcohol-based markers dry quickly, but they still tend to bleed and the right paper or card can alleviate this issue. The next best thing is any high quality paper or card.
Works made with alcohol-based markers
Alcohol-based markers are hugely popular amongst professional artists therefore there's a ton of inspiration to be found online. Hop on Instagram and follow:
Water-based marker features
Water-based markers don't usually get enough attention in the art world, but they should. The colours of water-based markers might not be as vivid as alcohol-based markers and the ink might take longer to dry, but you can still produce great results with water-based art markers.
Water-based markers are so-named as they use water as a solution for the dyes in the ink, however sometimes this can be a combination of water and glycerin. They work very similar to that of watercolour, allowing you to smoothly apply colour, easily diluted, and wash off. Bear in mind, however, that because water-based colour takes longer to dry, you can be left with streaks in your work. Direct application of layers one after another can also result in the paper piling up and tearing as the water saturates it.
Benefits of water-based markers
Cost: Water-based markers are less expensive than alcohol-based markers and therefore a less scary initial investment. If you have a short-term project you're undertaking and are not sure you'll be using your markers long into the future, water-based markers can get the job done at a low price.
Low odour: Water doesn't carry any odour and you can use water-based markers in any environment, even small, confined spaces.
Watercolour effect: Water-based ink is lighter and can give that unique watercolour look to your artwork. The water doesn't evaporate as quickly as alcohol, giving the dye more time to run around the page and dry in interesting ways.
Best applications for water-based markers
Water-based markers are commonly used for crafting, art and colouring as a non-serious hobby or pastime. Because they are washable and simple to use and because they contain no strong odours and cost less, they are also a popular choice with teachers, parents and children. Posca water-based markers can be used on metal, wood, glass, plastic, plaster, canvas and colouring books. They are used by artists, auto dealers, surfboard artists, sign writers, art and craft enthusiasts and kids who love to colour.
Works made with water-based markers
As a convenient tool for opaque overlay sketching, water-based markers are a popular choice for surfers and skaters wanting to show their creativity. Check out these great artists on Instagram.
What markers are best for a beginner artist?
The good thing about art markers is that they support you whether you're a beginner or a professional. The copic brand is one of the most popular for beginners but it's also the most widely used amongst professional artists. Colouring with Copic is a similar process to watercolour, where it's all about layering and blending. They markers go on so smoothly they can easily be blended with similar colours.
Posca is also gaining traction in creative circles. Their opaque felt tip writes well on plastic and metal and many artists have used them to decorate surfboards through to Gameboys. Their water-based pigments are lightfast and waterproof and the ink won't bleed once applied.
If you're looking to experiment with something more adaptable, Tombow's Dual Brush Pens are for you. Not only do they come in a huge range of colours, but they come in both a fine-point tip for delicate linework, and a flexible brush tip allowing for both bold and balanced strokes. As they both feed off the same ink reservoir, the colour matches perfectly, and they can even be dipped in water for a vibrant wash effect.
Shopping for art markers
Eckersley's knows that the quality of an artist's work largely comes down to the tools they hold in their hand which is why we stock only the best art markers. We choose brands that we trust so that you can trust us when shopping for the right kind of marker.
Whether you're after water-based markers or alcohol-based markers, Eckersley's has what you need in a range of colours and pack options. Browse our range of markers online today, or pop in store and talk to our friendly team.