Level: Medium
Duration: 30 mins
Create your own stylish, terrazzo style earrings using STAEDTLER FIMO Neon Effects Clay.
Click here for a PDF version of this project.
What you will need
---
A variety of STAEDTLER FIMO Neon Modelling Clay
STAEDTLER FIMO Soft Modelling Clay (White & Black)
FIMO Acrylic Roller
Needle
Blade
Small round cutter
Earring backings
Jump rings
Pliers
Super Glue
Baking Paper
Oven
---
How to do it
Roll out half a block of FIMO soft black into a sheet using the acrylic roller. Cut

one portion of each of the FIMO effect neon colours and the FIMO soft white and cut them into lots of little scraps/confetti. Scatter them onto the black sheet.

Place a piece of baking paper over the FIMO sheet and confetti and roll over it with the acrylic roller, applying gentle pressure to bind the colourful confetti to the black FIMO.

Using the earrings template, cut out the shape in the sheet.
Pick a colour and roll out one portion of FIMO effect into a sheet using the acrylic roller. Then cut out two circles using a small round cutter. Pierce a hole at the bottom edge of the circle and another at the top edge of the earring using a needle or a toothpic. La

y all the FIMO pieces on baking paper and harden in the oven for 30 minutes at 110° C / 230° F on upper and lower heat.

Allow to cool completely then fasten the yellow circle to the terrazzo pendant using a jump ring. Then

fix an earring to the back of the finished circle using superglue.

Your earrings are complete!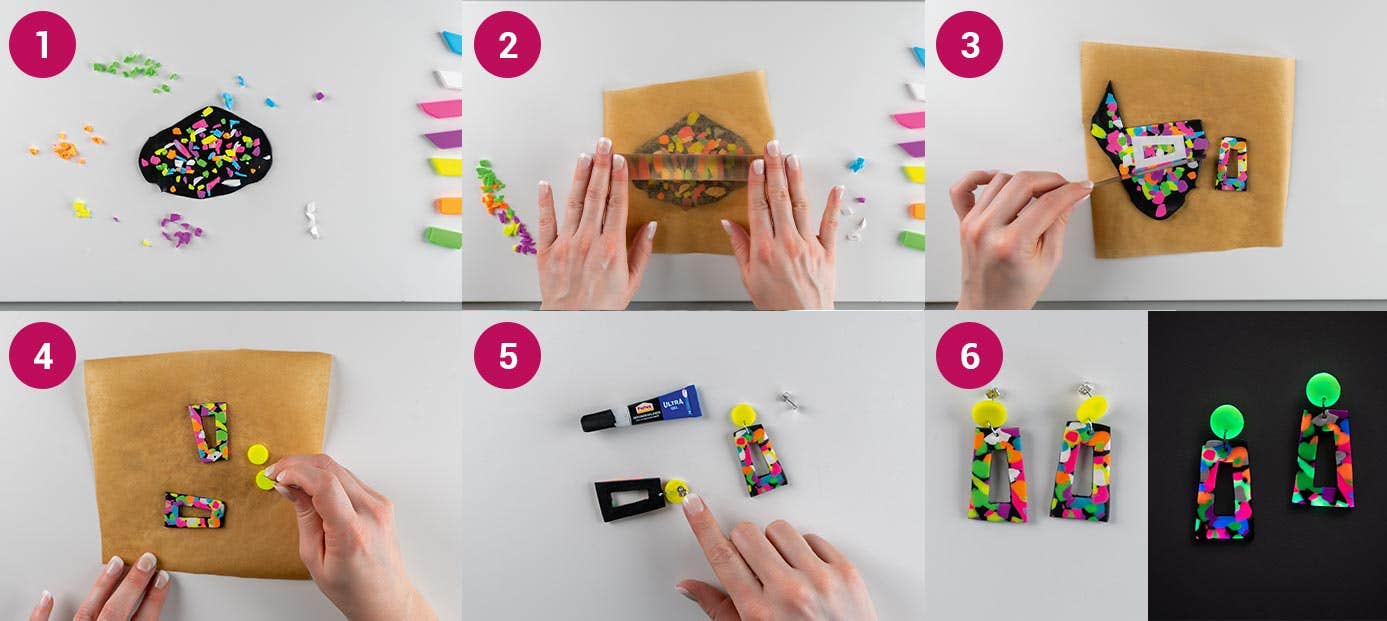 Watch the Video