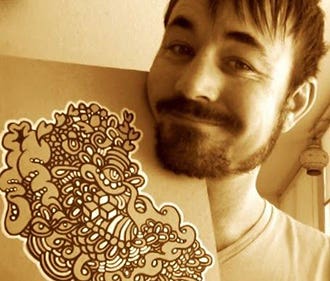 Current Role: Distribution Manager
Department: Logistics
Location: St Mary's, NSW
What inspired you to join Eckersley's and why?
I was inspired to join Eckersley's when I first moved to Sydney. A mutual friend worked at the York Street Eckersley's store and gave me the tip they may be hiring; the phone interview consisted of the manager Tina Barron quizzing me on my oil painting techniques and knowledge of oil mediums which I must have passed with flying colours (pardon the pun) because the rest is history.
What stores/departments within Eckersley's have you worked in? And also the roles you have worked?
I have worked casually at the York Street, St. Leonards and North Sydney stores and after a brief hiatus living in central Australia I returned to work for Eckersley's in my home state of Victoria at the Melbourne store and became the assistant-manager there. I moved back to Sydney in 2010 and have since been appointed the Distribution Manager of the Education Division and Online at the warehouse in St. Mary's.
How many years have you dedicated to the Art & Crafts industry?
I have worked in this industry in various roles for over 10 years.
Do you have an art / craft background, if so tell us more about it?
I studied Fine Art Painting at RMIT University in Melbourne and have always been a keen drawer and painter. As a student much of my income was spent at the Franklin Street Eckersley's store on brushes, canvases and oil paints. I was always on the look-out for Eckersley's sales and took advantage of the student discount on many occasions. After leaving art school I went travelling overseas and most of my art practice in those days was between the pages of small journals – easy to carry and sporadically dumped at the parent's "storage facility" on the family farm in Victoria for safe-keeping as the pages were filled. These days I am re-discovering painting after an extended break during which I was mostly screen printing and stenciling.
What trends and changes have you witnessed over the years in the Art & Craft industry?
A big trend has been street art as popularized by artists such as Banksy, with an increased take-up of spray paints and markers. Of course the current craze of colouring-in deserves a mention too!
If you could describe the characteristics that Eckersley's as a brand portrays, what would you say?
Eckersley's as the brand is best known for the wealth of knowledge, experience and passion the staff bring to their roles. I knew back in art school that the staff would be able to assist with my enquiries and that they would always take the time to share what they knew about a particular technique or material.
What has been your fondest memory of working with Eckersley's so far?
I have fond memories of working with some pretty incredible people over the years. I will remember most the special camaraderie that can grow in a team of people who daily encounter some at times baffling and bemusing enquiries. Customer: Turker's! Do you keep Turker's? She specifically said to get Turker's!
DF: (After some minutes of bafflement) Did your teacher mean – TURQUOISE?
What is the funniest memory you have of working at Eckersley's?
My favourite phone enquiry from my store days:
Customer: Do you sell wishing-wells?
DF: Erm… do you mean like scale model wishing wells?
Customer: No – life-sized. It's for a wedding. My friend said you have everything.
DF: … I'm afraid we don't – but we do have some materials you might be able to fashion one with!
Favourite quote and why?
Melbourne store drew a lot of street-artists and graffitist and at times some pretty out-there customers. We'll never forget the one who enquired about 'future colours'. "You know – future colours. At the moment here's red, blue, green and all that – but what about the colours that haven't been invented yet?" I love it because it comes from such a crazy place, but at our recent W&N training Natalie O'Connor suggested there may indeed be future colours coming out soon!
Where do you see Eckersley's in 5 years' time?
In five years' time I see the online content and engagement via social media with our customers growing and growing. There are some amazing technological developments ahead and where new technology intersects with the most traditional techniques and practices we can expect to see incredible invention and creativity.
---